the

Ingredients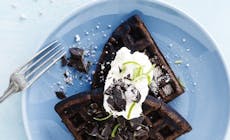 Instructions
Who doesn't like waffles – and who doesn't like chocolate? All of it in one and the same treat. Enjoy!
In the kitchen:
Melt the butter over a low heat. 
Mix the flour, baking powder, cocoa powder or roughly chopped chocolate, bicarbonate of soda, vanilla sugar and brown sugar in a bowl, and beat gently with a hand mixer. 
Stir the eggs in one at a time, then add the milk and cream, followed by the melted butter. Stir the batter until smooth.
At the barbecue:
Prepare the barbecue for direct heat – 185-200°C. If you are using a charcoal barbecue, you need 1/3 of a chimney starter of lit briquettes. 
Put the waffle and sandwich iron in the GBS grate and preheat for 5-8 minutes. 
Divide the batter between the four sections, covering the entire surface. Close the iron and bake for 6-8 minutes. 
Flip the iron through bake for roughly another 6-8 minutes, or until the waffle is crisp on both sides.
When the waffles are ready, place them on a grate so that they stay crisp. Serve with soft scoop ice cream, for example.
All of our recipes are created by our expert chefs at the Weber Grill Academy. View more inspirational recipes or book a course at the Grill Academy now.

More

recipes
You May Also Like
More

recipes
You May Also Like