the

Ingredients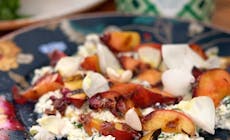 Instructions
Place the dried rose, sugar and water in a saucepan and bring the boil, reduce by half, and remove from the heat.

Cut the peaches into wedges, remove the stones and cook dry on the grates until charred.

Add the peaches to the syrup to steep. Then roughly chop the mint.

Gently mix the ricotta with the olive oil and lemon zest.

Place the peaches flat onto a plate and spoon over the ricotta.

Sprinkle over the mint and fresh rose petals.

Mix a little of the syrup with the olive oil and drizzle around. Add a sprinkle of Maldon salt to finish.
All of our recipes are created by our expert chefs at the Weber Grill Academy. View more inspirational recipes or book a course at the Grill Academy now.

More

recipes
You May Also Like
More

recipes
You May Also Like