the

Ingredients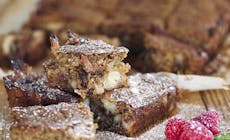 Instructions
In the Kitchen:

Let the sultanas soak in the rum for at least 30 minutes.

Sieve the flour into a bowl with the baking powder, bicarbonate of soda and salt.

Melt the unsalted butter and in another bowl beat this and the brown sugar until combined well, and mix in the egg. Mash the bananas and add.

Chop the walnuts coarsely. Stir in the walnuts, rum soaked sultanas and vanilla extract using a wooden spoon.

Add the flour mixture, a third at a time, whisking constantly.

Scrape into a loaf tin lined with greaseproof paper.

At the Barbecue:

Prepare the barbecue for indirect heat – approx. 180°C

Place the pizza stone on the grate and let it preheat. Put the tin on it and bake the banana bread for 25-30 minutes or until firm on top.

When a knife inserted into the centre comes out clean - it's done. Leave in the tin on a rack to cool.

Remove from the tin and cut it into six slices.

Preheat the griddle for 10 minutes. Add a knob of butter to melt. Grill the banana bread slices for 2 minutes on each side.

Serving Suggestion

Sprinkle with caster sugar and serve with ice cream.
All of our recipes are created by our expert chefs at the Weber Grill Academy. View more inspirational recipes or book a course at the Grill Academy now.

More

recipes
You May Also Like
More

recipes
You May Also Like