the

Ingredients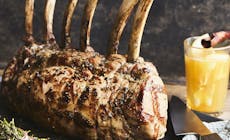 Mulled Cider
Special Equipment
Instructions
Pick thyme and rosemary leaves and add to a mortar.

Peel and roughly chop garlic and shallots and add to the mortar.

Grind everything to a paste using a pestle, then add the olive oil and season with salt and pepper.

Cut away the rib bones from the meat, rub the meat with the herb rub, and then reattach the bones with butcher string.

Place the Roast in the Cooking Grate over indirect heat.

Insert an I Grill Probe into the meat, close the lid and cook for about 90-120 minutes, or until the core temperature reaches 55 °C

Take the roast off the grill and rest on a warm place for about 20 minutes before serving.

While the beef is resting, pour the cider, Calvados, apple juice and sugar into a large saucepan, and gently heat to mull.

Add the orange zest and spices, bring to a simmer, then turn down and keep on a low heat for 15 mins or until the beef is ready. Ladle into glass mugs to serve.
All of our recipes are created by our expert chefs at the Weber Grill Academy. View more inspirational recipes or book a course at the Grill Academy now.

More

recipes
You May Also Like
More

recipes
You May Also Like