the

Ingredients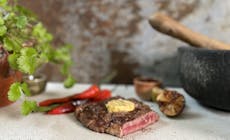 Special Equipment
Instructions
In the Kitchen

Melt 1 tablespoon of the butter in a small skillet over medium heat. Add the shallot and cook until slightly softened, about 2 to 3 minutes, stirring occasionally.

Transfer to a small bowl and cool for 5 minutes. Add the remaining 4 tablespoons softened butter, coriander, lime zest, salt, and chipotle pepper to the bowl with the shallots.

​Blend thoroughly with the back of a spoon, until uniform.

​Transfer mixture to a sheet of plastic wrap, shaping the butter into a small cylinder in the centre. Twist the ends to make a more compact cylinder about 31⁄2 inches long.

​Transfer to the refrigerator until ready to use; 45 minutes or longer.

At the Barbecue

Remove the circular Gourmet BBQ SystemTM grate insert, and prepare the grill for direct grilling over high heat (220°C). Insert the sear grate and preheat with the lid closed for 15 minutes.

Combine the sugar, ancho chile, chilli powder, onion powder, coriander, salt, and pepper in a bowl. Pat the steaks dry. Lightly coat both sides of each steak with oil and evenly season the spice mixture. Let steaks stand at room temperature for 15 to 30 minutes.

Place steaks on the sear grate and grill over direct medium-high heat, with the lid closed, 6 to 8 minutes, turning once. Slide the steaks to the surrounding cooking grate over indirect heat and grill 2 to 3 minutes longer for medium-rare or until desired doneness. Remove steaks from the grill and let rest 2 to 3 minutes before serving.

Remove the cilantro-lime butter from the refrigerator. Cut into 8 slices. Top each steak with 1 to 2 slices of the butter, reserving any extra butter for another use.
All of our recipes are created by our expert chefs at the Weber Grill Academy. View more inspirational recipes or book a course at the Grill Academy now.

What do you need?
Recommended Tools
What do you need?
Recommended Tools
More

recipes
You May Also Like
More

recipes
You May Also Like