What is a

Dutch oven

and how do I Barbecue with it?
Whether you're cooking a classic slow-baked dish, a hearty stew or even that BBQ classic - an American-style chilli, the Dutch oven has you covered. This deep cooking pot with a lid can sometimes be made completely from cast iron, but there are more light-weight models that are often ceramic and glazed. Both materials offer an even, convection style cooking process that produces strong flavours and tender dishes. Don't worry about hot liquids bubbling over and a mess on your splashback, taking cooking outside to the barbecue has never been easier.
Tips for cooking
delicious dishes with

Dutch ovens​​
Although the Dutch oven was once hung over the campfire and left to do its own thing, there are a few things you need to keep in mind when cooking with the modern version, like this dutch oven from Weber. This features porcelain-enameled cast iron, so you don't need to season the surface with oil and you can be assured that your meal won't stick to the pot.
While it's said a watched pot never boils, you should always have someone keeping an eye on the Dutch oven. No matter whether you're cooking on the BBQ grill or an open fire, unexpected steam or liquids can come into contact with your heat source when escaping a closed Dutch oven.
On the off chance that steam can be seen escaping from the sealed lid, it means that the grill is too hot or you have not closed the lid properly. Make sure you have your heat protective gloves on and readjust the lid whilst lowering the heat. Now you can avoid burning your food or even drying it out!
Plastic is definitely not your friend when it comes to Dutch ovens. The high, sustained heat can easily melt cheaper utensils, so stick to wooden or premium silicone cooking accessories. Another tip is to avoid metal since it can easily scratch the Dutch ovens glazing.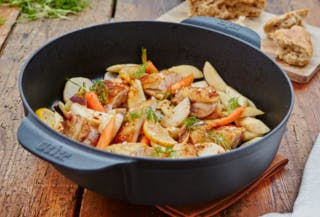 One of the most important things to remember when cooking with a Dutch oven is to treat with care. The big bowl and lid are both very sturdy, but you are using them to cook food at high temperatures. This means that the outer material can sometimes be vulnerable to being dropped and even cracking or shattering with the shock.
Crowd-pleasing
Dutch oven recipes​​
Dutch ovens can be used to cook everything from breads to fruit compotes, but our favourite go-to recipes are the throwbacks to classic, satisfying meals.
Winter stew: During the colder months, a warm bowl of thick soup with vegetables is just what the doctor ordered. Our winter superfood stew recipe is the perfect meal for a quick and easy dinner in the Dutch oven and will warm up any chilly winter evening!
Chicken ragout: Chicken, herbs and vegetables? Sounds like a new spin on the perfect Sunday dinner and couldn't be easier. Just rest the marinated chicken on the bed of vegetables in the Dutch oven and in only 45 minutes, you'll be opening the lid on a pot full of the most delicious aromas.
Slow-cooked pork: Although this one can be done straight on the grill, a Dutch oven is also a great way of cooking the pork through while maintaining that heavenly juiciness we all love. With a cider braise, this recipe is sure to be a family favourite.
Lovin'

your Dutch oven​​​​​
Now that you know all the ins and outs of cooking with your Dutch oven carefully, you're ready to test out these recipes in real time. Are you ready to warm up the winter months and add these hearty classics to your menu?
Related Posts