Jackfruit Recipes:
This

Superfood

Is A Great Barbecue

Meat Alternative
At first glance, the prickly, bulbous jackfruit looks a bit off-putting. The massive pods give off a pungent odour and can balloon to a weight of 45 kilograms. But on the inside, the largest tree-grown fruit on earth has all the makings of a true superfood. The Jackfruit opens up worlds of possibilities on the grill and can be used as a tasty vegan alternative.
In the West, the Jackfruit has only just made its way into cooking culture but in India and South East Asia, the light green pod has been a kitchen staple for generations. Jackfruit flesh is low in carbs, high in fiber and a true nutrient powerhouse: rich in immune-boosting vitamins A and C and valuable antioxidants, it combats high blood pressure and has numerous other prophylactic health benefits.
Meatless

Grilling

Reimagined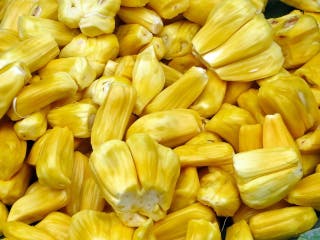 Veggie options that emulate meat face two main challenges: texture and flavour. Uniquely, jackfruit ticks both boxes. While sweet in its ripened state, young jackfruit does not have a strong individual taste and will take on the flavour of anything you prepare it with. In terms of texture, the flesh of young jackfruit is meaty and stringy, similar to pulled pork or chicken.
Preparing Jackfruit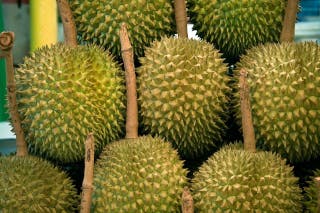 Although preparing a fresh jackfruit is a rewarding experience that produces enormous quantities of flesh, it can also be challenging. Canned jackfruit will do the trick just as well and can save a lot of time and energy. If you do decide to work with fresh jackfruit, be sure to use a sharp, serrated knife doused in oil to avoid the flesh sticking to the blade.
Jackfruit Recipes
Jackfruit flesh will assume the flavour of your seasoning, marinade, and sauces - so be sure to use high quality ingredients to bring out its full potential. Here are some of our favourite bbq jackfruit recipes to try:
Pulled Jackfruit
Marinated with chili and garlic, our pulled BBQ jackfruit recipe is perfect as a sandwich, jackfruit tacos, or BBQ bowl and a scrumptious nutrient-filled alternative to pulled pork. For the most flavourful results, be sure to use the best tools: Our stick-free GBS Wok doesn't require seasoning with oil, keeping your BBQ flavours sharp and zesty.
Jackfruit Fried Chicken
The Jackfruit's stringy texture also lends itself well to jackfruit fried chicken. Experiment with different soaking times for the jackfruit to reach the desired level of flavour. To spice up the taste even more, a sweet honey mustard sauce pairs nicely with the faint sweetness of the jackfruit.
Vegan Jackfruit Crab Cakes
With a combination of garlic, chives and cilantro, the jackfruit takes on a distinct crab meat flavour in vegan jackfruit crab cakes. With a slight crunch on the outside and a meaty, moist core, you'll have even the most seasoned seafood lovers second-guessing themselves.
Jack(fruit)
of

All Trades
A superfood and nutrient-rich meat alternative for your home cookout, the jackfruit is a foodie trend everyone can get on board with. And with our tantalizing jackfruit recipes, so can you. Check out our recipe database, and see if you can spot some flavourful ideas that work with jackfruit as a meat alternative.