Beat the heat with our


favourite cocktails


and


Barbecue punch drinks
Beers and burgers are a classic combination, but why not introduce some new flavours at your next barbecue party? Spring and summer fruits are the perfect cocktail bases and will help get your guests in a festive mood.
Whether you're putting together cocktails, mocktails, or even a big bowl of punch - creating a drink from scratch couldn't be easier. As a bonus, interesting ingredients and decorations can serve as a conversation starter at your party, too!
Create Buzz
with our

Barbecue alcoholic drinks
For the adults at the party, classics like a jug of Pimms with lemonade, mint and fruit are always a hit. But if you want to try something new, here are a few our current favourites:
Raspberry Fizz: With gin, champagne, and raspberry flavours, this cocktail is the perfect match for a light grilled chicken appetiser.
Strawberry Caipirinha: Sweet fruity notes with an acidic zing ensure you'll enjoy this party favourite with any seafood fresh from the grill!
Hot White Russian: Kahluha meets fresh coffee and cream in this delicious dessert drink! Perfect to follow a hearty grilled steak.
Create Buzz with our Barbecue alcoholic drinks
The Perfect Combos:
Pairing Barbecue and cocktails
Just like jam and scones or cheese and wine, there are some food pairings that are classics for a reason. Barbecue chicken and beer are an evergreen favourite, with the salty and sweet notes of the marinated chicken offset by the crisp notes of a cold beer. However, beyond that matching drinks with your barbecue can sometimes feel like a guessing game. Luckily, we have tested some must-try combos to get you started:
Spicy dishes with a sweet drink: It might sound crazy but one of the best matches for a hot dish like fajita-spiced chicken or spicy grilled vegetables is a drink with sweet notes. Options like a subtle white wine with a fruity bouquet or a cocktail like Long Island iced tea will not only taste extra refreshing but also soothe the spicy heat.
High-fat meats and tannin-rich drinks: While you might think of tannins as something from the wine world, they're actually found in a lot of foods and drinks. Matching something that is traditionally quite fatty like duck with a tannin-heavy drink like red wine or even a cocktail like a margarita creates a flow between the different tastes and textures.
Seafood and acidic flavours: Just like a splash of lemon juice across freshly grilled prawns, a lemony cocktail matches seafood on the barbecue perfectly. From fish to shellfish, strong acids blend and highlight the fresh flavours of any seafood dish. Our favourite is matching a lemony mojito with grilled crab straight from the barbecue.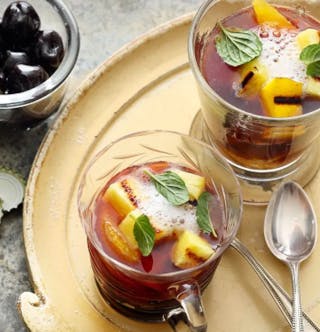 The More, the Merrier!
Punch bowls are a popular choice for barbecues, and we know why. While individually-made cocktails are great, making them in a batch not only saves you time in preparation, but also means you spend less time during the barbecue heading back to mix refills. Punch bowls offer a great communal feel and are a fun and eye-catching moodsetter for any outdoor gathering.
What's on
the Barbecue drinks menu

for you?
You've got your meal planned and now you just need to get mixing to have drinks to match. If you need more inspiration, check out our barbecue cocktail recipes to get you through the cold and dark winter months.