Summit® S-470 Gas Grill (Natural Gas)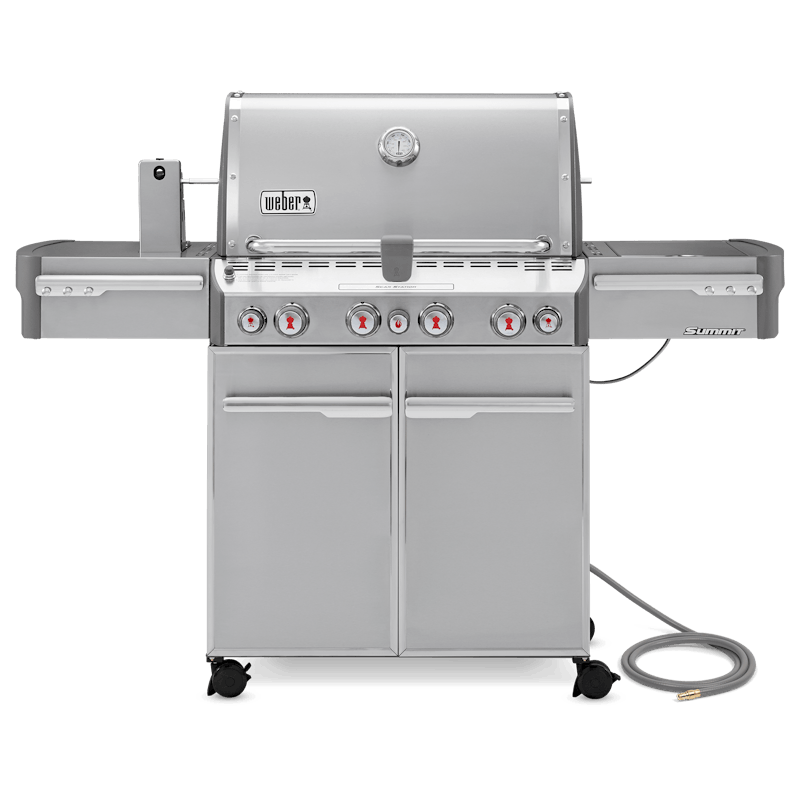 Let your homemade BBQ sauce simmer on the side burner to compliment the golden brown rotisserie chicken under the lid. The four burners, large cooking area, and abundance of features in the Summit® S-470 gas grill is what every grill master strives for.
• 10 year warranty on all parts of the grill.
• Sear Station creates an intense heat zone to quickly add sear marks on meat.
• Grill rotisserie chicken with the unmistakable taste of barbecue.
• Add a touch of smoke by using the integrated smoke box.
Complete the Set

Weber Grill Cleaning Kit
Price reduced from

N/A

to
$10.49
Carousel containing list of product recommendations. Please use left and arrows to navigate.
Summit® S-470 Gas Grill (Natural Gas)
Main burners: BTU-per-hour input

48,800

Sear Station burner: BTU-per-hour input

10,600

Stainless steel smoker box and smoker burner: BTU-per-hour input

6,800
Side burner: BTU-per-hour

12,000

Rear-mounted, infrared rotisserie burner: BTU-per-hour input

10,600

Dimensions - Lid Open (inches)

57.1"H x 66"W x 30"D
View All Specifications
Warranty Information
Frequently Compared

Summit® S-470 Gas Grill (Natural Gas)

Price:

Main burners: BTU-per-hour input:

48,800

Sear Station burner: BTU-per-hour input:

10,600

Stainless steel smoker box and smoker burner: BTU-per-hour input:

6,800

Side burner: BTU-per-hour:

12,000

Summit® E-470 Gas Grill (Natural Gas)

Price:

Main burners: BTU-per-hour input:

48,800

Sear Station burner: BTU-per-hour input:

10,600

Stainless steel smoker box and smoker burner: BTU-per-hour input:

6,800

Side burner: BTU-per-hour:

12,000

Summit® S-670 Gas Grill (Natural Gas)

Price:

Main burners: BTU-per-hour input:

60,000

Sear Station burner: BTU-per-hour input:

10,600

Stainless steel smoker box and smoker burner: BTU-per-hour input:

6,800

Side burner: BTU-per-hour:

12,000