the

Ingredients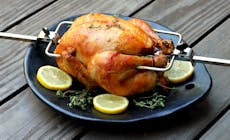 Brine
Special Equipment
rotisserie
instant-read thermometer
large disposable foil pan
Take Your Grilling Anywhere
FIRE
UP

YOUR GRILL
Instructions
In a bowl large enough to hold the chicken whisk all of the brine ingredients to dissolve the salt and sugar.

Submerge the chicken in the brine, breast side-down, and refrigerate for 8 to 24 hours, turning occasionally.

When ready to grill, lift the chicken from the brine, letting any excess liquid drip back into the bowl. Discard the brine. Pat the chicken dry, inside and outside, with paper towels. Truss the chicken with butcher's twine, securing the legs and wings.

Skewer the trussed chicken on the rotisserie spit, securing it with the spit forks.

Before turning on the grill, put the spit on the grill and turn on the motor, to test that your food freely fits and spins on the rotisserie.

Prepare the grill for indirect cooking over medium heat (350° to 450°F). Place a drip pan in the middle of the grill on top of the cooking grates to catch the drippings from the chicken.

Put the spit on the grill, start the motor spinning, and make sure the drip pan is centered beneath the chicken.

Remove the spit from the grill and remove the chicken from the spit. Let rest indoors at room temperature for 5 to 10 minutes before carving. Discard the trussing and cut into serving pieces. Garnish fresh thyme and serve with lemon wedges.
More

Poultry recipes
You May Also Like
More

Poultry recipes
You May Also Like