the

Ingredients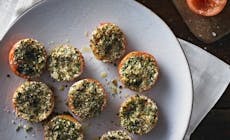 Instructions
These delicious tomatoes make the perfect pairing for a juicy steak!
In the kitchen:
Wash the tomatoes. Remove the stems and cut in half. Squeeze gently to remove the seeds.
Brush the grill basket with oil and place the tomatoes in it.
Mix the sugar and salt. Sprinkle over the tomatoes.
Prepare the persillade. Peel the garlic and slice finely. Wash the parsley and chop it finely. Combine both with the breadcrumbs, salt and pepper.
Evenly spread the persillade over the tomatoes and drizzle with the remaining oil.
At the barbecue:
Prepare the barbecue for indirect heat – approx. 200 ºC.
Place the grill basket on the grate in the middle and cook for 20 minutes with the lid closed.
Check the tomatoes are cooked and remove them from the heat.
Serve immediately.
All of our recipes are created by our expert chefs at the Weber Grill Academy. View more inspirational recipes or book a course at the Grill Academy now.

More

recipes
You May Also Like
More

recipes
You May Also Like