the

Ingredients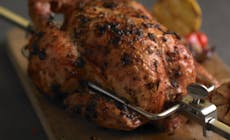 Instructions
Follow this recipe for the perfect succulent roast dinner for all the family.
Method:
Pre-heat the barbecue for in-direct heat, approx. 200°C.
In a large bowl drizzle the chicken with olive oil then add the rub ingredients. Fully coat the chicken in the rub as evenly as possible.
Make sure your spit is clean then skewer the chicken so the bottom prongs are firmly lodged in the thigh meat. Make sure the chicken is positioned centrally on the bar.  Slide the second prong down the spit. Locate the spikes into the breast meat pushing firmly to ensure a good grip. Tighten up the thumb screws and your chicken is ready to roast.
Roast the chicken on the spit over an in-direct medium heat around 200°C for approximately 1-1 ½ hours making sure your internal meat temperature has reached 75°C.
All of our recipes are created by our expert chefs at the Weber Grill Academy. View more inspirational recipes or book a course at the Grill Academy now.

More

recipes
You May Also Like
More

recipes
You May Also Like