the

Ingredients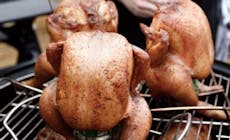 Instructions
This recipe is one of the best ways to make succulent chicken on the barbecue.
Method:
Set up the smoker as per the user guide.
Soak 2 cups of apple wood chips/chunks.
Rub the olive oil all over the chicken. Using a spice grinder, grind your chosen spices all over the chicken and massage in.
Clean your beer/lager can thoroughly underwater. Open your can and drink or pour away half of the liquid, adding some of your chosen spices into the can.
Put the can into the Weber Original Poultry Roaster and place the chicken over the beer can. Place on the cooking grate and cook for 2-2 1⁄2 hours adding wood chips on to the hot coals.
After 1 1⁄2 hours, open the smoker door and re-fuel if required and add extra wood chips.
The chicken is cooked when the meat thermometer reaches 77°C in the thigh/breasts or the juices run clear. Once cooked, using two barbecue mitts remove the poultry roaster and put the chicken to one side to rest and cool for approx. 10 minutes. The beer can will be very hot, make sure you support the can as you lift and twist the chicken off (use a gloved hand or tongs to assist). The chicken will be very moist so you can either carve or just pull the chicken off the bones and place on a serving bowl.
PLUS: You can also use a charcoal barbecue for this recipe. Set up using the roasting method. Simply add soaked wood chips to the hot coals and roast for approximately 1 1⁄2 hours or when the meat thermometer reaches 77°C in the thigh/breast.
All of our recipes are created by our expert chefs at the Weber Grill Academy. View more inspirational recipes or book a course at the Grill Academy now.

More

recipes
You May Also Like
More

recipes
You May Also Like