the

Ingredients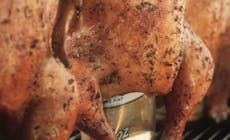 Instructions
A simple but effective roast chicken recipe using pecan wood chips for a delicate smoked flavour.
Method:
Place a couple of handfuls of pecan wood chips into water, to soak.
Rub the chicken with olive oil and season with salt and pepper or alternatively, a rub of your choice.
Clean the exterior of the beer can thoroughly under water. Open the can of beer and drink/pour away half of the liquid.
Put the can into the original poultry roaster and place the chicken over the beer can.
Roast the chicken over an indirect medium heat for approximately 1 ½ hours, or until the juices run clear. Add a handful of drained woodchips directly onto the coals at the beginning of cooking and half way through.
All of our recipes are created by our expert chefs at the Weber Grill Academy. View more inspirational recipes or book a course at the Grill Academy now.

More

recipes
You May Also Like
More

recipes
You May Also Like