the

Ingredients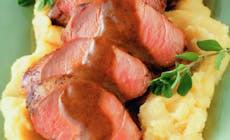 MARINADE
Special Equipment
Weber Connect Smart Grilling Hub
Instructions
Remove the stems and seeds from the peppers and cut the pulp into pieces about 5 cm long. In a medium skillet over high heat, heat the oil. Carefully add the peppers (the oil could splatter) and cook until they begin to release their aroma (3-5 seconds per side). Transfer the peppers with the oil to a small container. Cover with 360 milliliters of hot water. Use a smaller bowl or plate to submerge the peppers; rehydrate for 20 minutes. Pour the mixture, peppers, water, and everything else into a blender or food processor. Add the rest of the sauce ingredients and process until smooth. Press the mixture through a medium mesh strainer set over a bowl. Discard any solids remaining in the strainer.

Place the cuts in a large resealable plastic bag and pour 240 ml of the marinade into it, saving the rest. Expel the air by pressing the bag and close it well. Turn the bag upside down to distribute the marinade, place in a container and refrigerate for 6-8 hours, turning occasionally.

In a medium pot, mix the marinade previously saved with ketchup. Bring the mixture to a simmer and cook until it reaches a sauce-like consistency, 3 to 5 minutes. Season with salt and pepper.

Remove pork from bag and discard marinade. Lightly brush the fillets with oil and season generously with salt and pepper. Take them out and let them rest at room temperature for 15-30 minutes before grilling.

Prepare the grill for direct cooking with medium heat (180°C - 230°C).

Brush cooking grates clean. Grill cuts over direct medium heat, with lid closed, until meat is slightly pink in center (15-20 minutes), turning every 5 minutes. Remove from the grill, cover the top with aluminum foil without closing it and let rest for 3-5 minutes before cutting them. Reheat the sauce over medium heat and serve warm with the pork.
All of our recipes are created by our expert chefs at the Weber Grill Academy. View more inspirational recipes or book a course at the Grill Academy now.

What do you need?
Recommended Tools
What do you need?
Recommended Tools
Weber Connect Smart Grilling Hub
More

recipes
You May Also Like
More

recipes
You May Also Like