the

Ingredients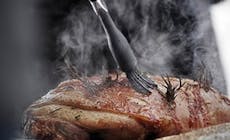 Special Equipment
Drip pans
GBS Dutch Oven Duo
Instructions
In the kitchen:

Stud the lamb with garlic and rosemary and using a sharp pointed knife; make small incisions all over the meat. Peel five garlic cloves, half lengthways and then push into each incision. Next, pull off small sprigs of rosemary and push into the incisions too. Rub the leg of lamb with the olive oil and finish with a good pinch of salt and pepper

At the barbecue:

Pre-heat the barbecue for in-direct heat at approximately 180 °C - 200°C. If you are using a charcoal barbecue, you will need half a chimney starter of Weber briquettes.

Scatter the carrot, onion and any remaining garlic and rosemary in a large Weber drip pan, pour in the wine and stock, then place on the charcoal great next to the coals. If using a gas barbecue you, can use either a roasting wrack or place the lamb leg directly in the drip pan

Roast in the (in-direct method) for about 1 hour 45 minutes until the centre of the meat reaches 60°C. When cooked, remove the lamb and allow to rest in a warm place for about 15 minutes.

While the lamb is resting, make the gravy. Pour all the stock from the pan through a sieve into a saucepan to remove all the vegetables and herbs. This stock should be rich, slightly thick and have a great lamb flavour. Reduce it a little over a direct heat if you feel you want to concentrate the flavour.

Serving Suggestion:

Serve your lamb with roasted potatoes and other root vegetables, or for a lighter, Spring-time main, with some steamed baby leeks, cabbage and peas.
All of our recipes are created by our expert chefs at the Weber Grill Academy. View more inspirational recipes or book a course at the Grill Academy now.

What do you need?
Recommended Tools
What do you need?
Recommended Tools
Rapidfire Chimney Starter
More

recipes
You May Also Like
More

recipes
You May Also Like