the

Ingredients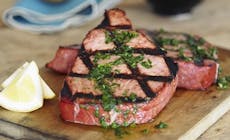 Instructions
"Delightful for a dinner party with close friends, our seared tuna recipe served with its herby, zesty sauce is minimum effort but provides maximum taste." Henry Herbert.
In the kitchen:
Place three layers of paper towel on a food tray. Place the steaks on it and cover with more paper. Let them absorb all the liquid from the steaks.
Set aside at room temperature for 20 minutes. Prepare the sauce in the meantime.
Peel the clove of garlic.
Put all the sauce ingredients in a food processor and blend for 2 minutes at high speed.
Taste and season.
At the barbecue:
Prepare the barbecue for direct heat – approx. 200 °C.
Place the griddle on the barbecue and let it preheat for 10 minutes.
Remove the paper from the steaks, brush with olive oil and then place them on the griddle.
Grill the tuna steaks for 4-6 minutes turning only once to ensure a crisp crust.
When the steaks appear brown and crispy on the surface, remove them from the barbecue.
Serve the tuna steaks with the sauce on top.
All of our recipes are created by our expert chefs at the Weber Grill Academy. View more inspirational recipes or book a course at the Grill Academy now.

More

recipes
You May Also Like
More

recipes
You May Also Like