the

Ingredients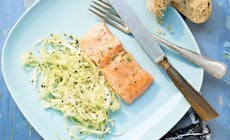 Instructions
Try this tasty salmon marinated in chilli with a refreshing side of spring cabbage.
Method:
Pat salmon fillet dry with a paper towel.
Split the vanilla pod lengthwise and scrape out the seeds. Add the seeds to a mixing bowl. Then add the rapeseed oil, chilli and lime juice.
Pour the mixture over the salmon and allow it to marinate for a few hours.
Rinse the cabbage and cut out the thick stalk section. Then slice the cabbage very finely.
Whisk the cumin, olive oil and mustard together. Toast the sesame seeds lightly in a pan then add to the olive oil mixture. Toss the cabbage in the dressing and season with salt and pepper.
Prepare the grill for low indirect heat (approx. 150-175°C). Add wood chips to your Smoker Box and place on the grate.
Put the lid down and wait until the barbecue starts smoking. Place a section of tin foil, roughly the same size as the fillet, in the middle of the cooking grate over the indirect heat. Add the fish and cook for 12 minutes.
Serve with the cabbage salad.
All of our recipes are created by our expert chefs at the Weber Grill Academy. View more inspirational recipes or book a course at the Grill Academy now.

More

recipes
You May Also Like
More

recipes
You May Also Like