the

Ingredients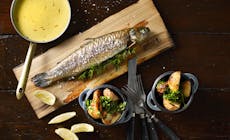 Special Equipment
Cedar plank, soaked in water for at least 30 minutes
Instant Read Thermometer
Instructions
Prepare the barbecue for indirect heat, approx. 220° C.

Rinse the trout under cold water. Lay it on a dry cloth. Season well with salt inside and out. Rinse the dill then pinch off the leaves and stuff into the fish's belly.

Rinse the potatoes well and cut into halves. Coat them with oil and season with salt and pepper. Rinse and finely chop the parsley.

Place the potatoes in the centre of the cooking grate and cook over indirect heat for approx. 35 minutes before removing.

Place the trout on top of the cedar plank then onto the cooking grate and cook for about 18 minutes – or until the core temperature reaches 63°C.

While the fish is cooking, make the sauce. Peel and finely chop the onion. Sauté in butter and saffron until the onion glistens. Add the white wine and let it reduce by half. Add the water and cream to the pan. Reduce the sauce until creamy. Season to taste with salt and pepper.

Remove the fish from the barbecue. Return the potatoes to the cooking grate and grill over direct heat for 3 minutes on each side. Remove and mix them with the chopped parsley and serve with the fish.

Important:
Watch the barbecue when you cook the fish. The cedar plank must not ignite, so the grill should not be left unattended while cooking.
All of our recipes are created by our expert chefs at the Weber Grill Academy. View more inspirational recipes or book a course at the Grill Academy now.

More

recipes
You May Also Like
More

recipes
You May Also Like