the

Ingredients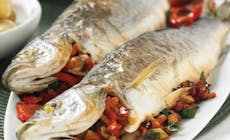 Instructions
A whole seabass dish accompanied with vine-ripened tomoatoes, olive oil and basil to give a taste of the Mediterranean.
Great served with new potatoes, fresh bread or a crisp green salad.
Method:
Set your barbecue up for the roasting method.
Halve the peppers and then slice again into four pieces. Set all but two pieces to one side. Chop the remaining peppers into small pieces.
Quarter the tomatoes. Set all but two pieces aside. Finely chop the remaining tomatoes.
Place the two Seabass onto a Weber Style stainless steel grill pan. Brush both sides with olive oil and season with salt and pepper.
Stuff the cavity of the fish with the finely chopped peppers, tomatoes and a tablespoon of shredded basil.
Finally, scatter the remaining pepper and tomato chunks, along with the shredded basil around the fish and drizzle a little olive oil over the vegetables.
Bake for 30 to 35 minutes with the lid closed, until the fish flesh has turned opaque and white in colour.
Serve with new potatoes and a side salad.
All of our recipes are created by our expert chefs at the Weber Grill Academy. View more inspirational recipes or book a course at the Grill Academy now.

More

recipes
You May Also Like
More

recipes
You May Also Like