the

Ingredients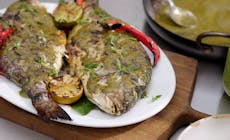 Special Equipment
Instructions
Wash the fish in very cold water, then pat dry with a piece of kitchen paper (paper towel).

Transfer the fish to a chopping board and score the skin with a very sharp knife to ensure that your seasoning can penetrate the fish effectively. Put the fish into a wide bowl.

Pour most of the green seasoning over the fish (saving about 1 teaspoon for the sauce) and give it a good mix around so the fish is fully coated.

Add the chillies, ginger, and lime zest, then rub the curry powder and garam masala all over, making sure it goes inside the cavity of the fish as well.

Season to taste with salt and pepper, then cover the bowl with cling film (plastic wrap) and leave to marinate in the fridge for 30 minutes.

Preheat the barbecue to 220 °C

Lay the marinated fish within the fishing basket, then place the basket onto the barbecue. Grill until the skin on the fish is popping and has a lovely deep golden colour, perhaps blackened and charred in places. Flip it over and do the same on the other side. (It should take about 8-10 minutes per side.)

Pour off the juices that have come from the fish into a saucepan, add the fish or chicken stock and the reserved teaspoon of the green seasoning.

Bubble it all up, then whisk in the butter until melted and combined. Pour the sauce back over the fish and serve with a crisp green salad

MAKING THE GREEN SEASONING:

Green seasoning! What a genius thing it is. Green seasoning makes your entire life so much easier. A glorious concoction of herbs and a little heat and garlic, which turns the most pedestrian pot or piece of protein into the best version of itself.

Add all the ingredients to a food processor and season to taste with salt and pepper. Whizz to the consistency of a salsa verde and keep in an airtight jar in the fridge for up to 2–3 weeks. Enjoy!
All of our recipes are created by our expert chefs at the Weber Grill Academy. View more inspirational recipes or book a course at the Grill Academy now.

More

recipes
You May Also Like
More

recipes
You May Also Like