the

Ingredients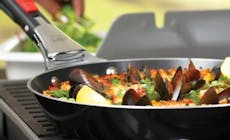 Instructions
We love this early summer inspired Mediterranean dish. It's the perfect recipe to be enjoyed al fresco on a balmy evening.
In the kitchen:
Peel and devein the prawns, reserving the shells to make the stock. Toss the prawns with the oil in a large bowl and season evenly with salt and pepper. Cover and refrigerate until ready to barbecue.
Bring the prawn shells and the stock ingredients to a simmer in a saucepan over a high heat. Strain, discarding the shells and bay leaves, and reserve the stock. (The stock can be made up to 2 hours ahead).
Check each mussel and discard those with broken shells, any that don't close up when you lightly tap on their shells and any others that feel unusually heavy because of sand trapped inside.
Prepare the barbecue for grilling (direct method) over a high heat on one side and a medium heat on the other side. Brush the cooking grates clean. Grill the prawns over direct high heat for about 2 minutes until cooked halfway, turning once (the prawns will finish cooking in the stock). Remove from the barbecue and set aside to cool.
Place a Weber Style Cookware System Wok over direct high heat and heat the oil. Add the Parma ham and cook for about 3 minutes, stirring until it begins to crisp. Add the onion, pepper and garlic and cook for about 5 minutes, stirring occasionally and rotating the pan for even cooking, until the onion is translucent. Slide the pan away from the fire.
Place the pan over direct medium heat, stir in the rice and cook for about 2 minutes until well coated with the pan juices. Stir in the prawn stock and frozen peas. Close the barbecue lid and let the rice cook in a brisk simmer for about 15 minutes, until the rice is al dente. Nestle the prawns into the rice. Add the mussels, hinged sides down. Cook, with the barbecue lid closed, for 8-10 minutes until the mussels open.
Remove the pan from the heat, cover with aluminium foil and allow to stand for 5 minutes. Remove and discard any unopened mussels. Serve hot straight from the pan.
All of our recipes are created by our expert chefs at the Weber Grill Academy. View more inspirational recipes or book a course at the Grill Academy now.

More

recipes
You May Also Like
More

recipes
You May Also Like