the

Ingredients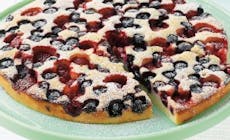 Instructions
This delicately Spiced Sponge has a berrylicious tang!
Method:
Prepare the barbecue for the baking (in-direct method) over medium heat (about 190°c). Generously grease the inside of a 25cm spring form tin.
Finely grate the zest from the lemon and set aside. Squeeze 2 teaspoons of juice from the lemon and add to a bowl with the berries and liqueur. Stir gently to combine. Set aside.
Using a handheld electric mixer, cream the butter, 125g of sugar, the lemon zest and cardamom in a large bowl, beating for about 3 minutes. Beat in the eggs and egg whites for about 1 minute until well incorporated. Scrape down the sides of the bowl and add the flour, mixing well for about 30 seconds.
Spread the mixture into the prepared tin. Using a slotted spoon, remove the berries from the liquid and place on top of the mixture. Mix the remaining 1 tbsp of sugar with the liquid and drizzle over the berries.
Brush the cooking grates clean. Bake the cake for 35-45 minutes, with the lid closed, until light golden (check the cake after 30 minutes). Wearing barbecue gloves or mitts, carefully remove the cake from the barbecue and allow to cool for 10 minutes. Sprinkle with icing sugar before serving, if desired.
All of our recipes are created by our expert chefs at the Weber Grill Academy. View more inspirational recipes or book a course at the Grill Academy now.

More

recipes
You May Also Like
More

recipes
You May Also Like