the

Ingredients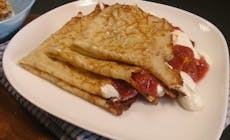 Instructions
This flavourful recipe will make a delicious accompaniment to your pancakes this Pancake Day!
Method:
Set the barbecue up for grilling (direct method)
Put all the ingredients into a saucepan and bring to the boil over a high heat.
Reduce heat slightly and cover with a lid. Stir occasionally so the rhubarb cooks evenly and the sugar doesn't burn. Barbecue for about 5 minutes or until the rhubarb is broken down but some softened whole pieces remain.
Remove from the heat and taste. If it is still quite sharp simply add a tsp more caster sugar until there is a good balance between sweet and sharp.
The star anise will continue to infuse the compote so remove straight away for a delicate flavour, or leave in for an extra 5-10 minutes for a slightly more intense flavour.
Allow the compote to cool slightly before serving, or make ahead and serve at room temperature.
All of our recipes are created by our expert chefs at the Weber Grill Academy. View more inspirational recipes or book a course at the Grill Academy now.

More

recipes
You May Also Like
More

recipes
You May Also Like