the

Ingredients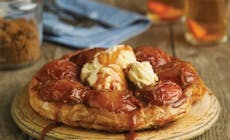 Instructions
A slight adaptation of the classic Tart Tatin which is made using apples. This recipe uses plums instead, and is recommended served warm with creamy vanilla ice cream. Weber Grill Academy Recipe.
Method:
Halve and remove the stone from the plums.
Meanwhile melt the butter, sugar and lemon juice in the Weber Style Poultry Roaster. Stir occasionally with a wooden spoon until the sugar has dissolved and the caramel is bubbling. This can be done on a side burner or on the grill. Remove.
In a pestle and mortar crush the cloves and sprinkle and onto the caramel. Arrange the plums in the caramel in a snug even pattern flat half facing up.
Place the pastry securely on top of the plums with an additional sprinkling of sugar and extra butter evenly distributed. Bake indirect for 20-25 minutes until the pastry is golden brown. Allow to cool for 5 minutes before turning out.
Place a serving dish over the pan and flip upside down to release the dessert, so that the pastry is underneath. Allow to cool for several minutes before serving with Laverstock buffalo milk ice cream.
All of our recipes are created by our expert chefs at the Weber Grill Academy. View more inspirational recipes or book a course at the Grill Academy now.

More

recipes
You May Also Like
More

recipes
You May Also Like