the

Ingredients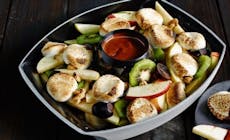 Instructions
A delicious treat that the kids will love
In the kitchen:
Wash the fruit. Dice the pear, apple and banana and place them in the bottom of the poultry roaster. Peel the kiwifruit and slice and mix with the other fruit. Cut the grapes in half, remove any seeds and spread the halves on top. Coarsely chop the walnuts and spread them on top. Pour the acacia honey over the top.
Thinly slice the marshmallows and spread them on top of the fruit.
Coarsely chop the chocolate.
At the grill:
Get the grill ready for in-direct heat, approx. 150 °C.
Place the poultry roaster on the centre of the cooking grate and put the lid on the grill.
Barbecue the fruit for around 10 minutes. Place the chopped chocolate in the poultry roaster cup and allow it to melt.
Take care to ensure it does not burn and stir occasionally if necessary.
All of our recipes are created by our expert chefs at the Weber Grill Academy. View more inspirational recipes or book a course at the Grill Academy now.

More

recipes
You May Also Like
More

recipes
You May Also Like