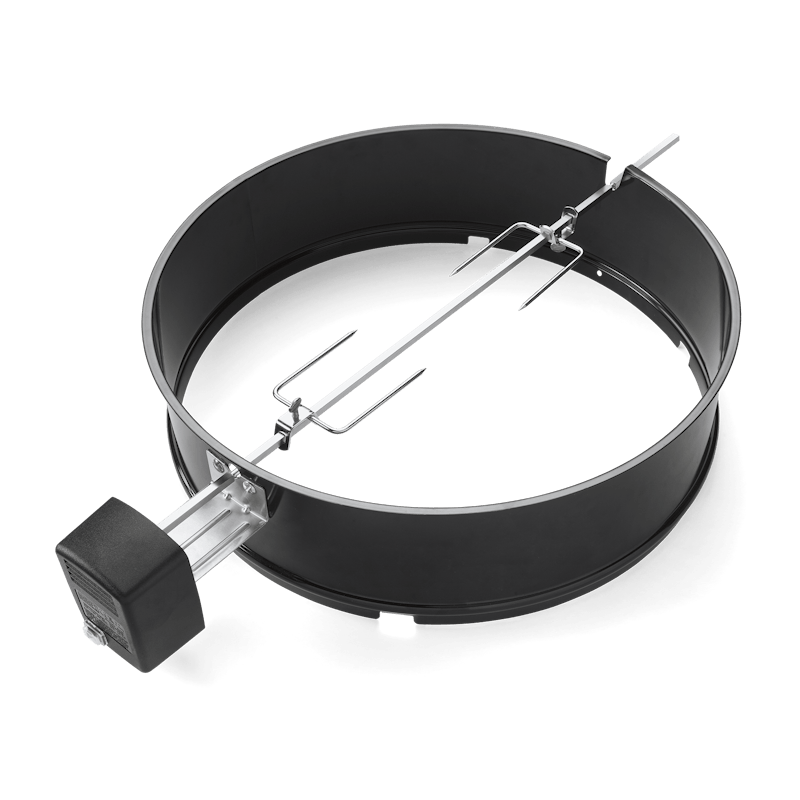 Built for 57 cm charcoal barbecues
Availability:
This item is currently not available
Indulge yourself with some free time at home and prepare outstanding meat on the barbecue. Place a pork roast, chicken or leg of lamb on the spit of the rotisserie and let it spin under the lid as you relax with your family and friends. Soon you'll be serving moist, tender and evenly-barbecued meat.
Infuse your foods with the taste, crispiness, and juiciness that only rotisserie cooking can achieve. The Rotisserie Kit includes a porcelain-enamelled ring, rotisserie shaft and forks, electric motor and all necessary hardware. While the ring creates an optimized space for your rotisserie to rotate within your charcoal barbecue, the two spit forks that adjust along the shaft hold any size cut of meat, and the electric motor slowly rotates your food above the coals. The porcelain-enamelled ring also allows you to use it as an extension piece, creating more vertical cooking space in the barbecue. This makes it possible to cook larger pieces of meat without being limited by the height of your barbecue lid. With the Rotisserie you can rest assured that you'll have a juicy, evenly cooked meal every time, due to its built-in, rotating mechanism. Designed to fit Weber's 57-cm charcoal barbecue models.
Free shipping on orders above £95. A charge of £9.50 will be applied for orders under £95 and an extra charge will be applied for certain areas.

Packages delivery between 7-9 working days. Grills delivery will be arranged via our carrier within 3 days of when the payment is received, approx. 7-9 working days. (More Information)
Out Of Carton Dimensions

13.21cm H x 9.91cm W x 81.28cm D

Individual Carton Dimensions

79.38cm H x 19.05cm W x 61.6cm D

Care Instructions

Hand wash - Spit, Dishwasher safe - Forks only
Fits

57 cm Weber® charcoal barbecues