the

Ingredients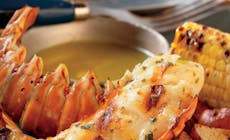 Butter
Special Equipment
Take Your Grilling Anywhere
FIRE
UP

YOUR GRILL
Instructions
Prepare the grill for direct cooking over medium heat (350° to 450°F).

In a small saucepan over low heat, melt the butter, swirling the saucepan occasionally. When the butter is melted, skim off the foam and discard. Stir in the remaining butter ingredients and heat for 1 minute. Remove from the heat. Pour off ¼ cup of the butter to use for grilling the lobster. Cover the saucepan to keep the remaining butter warm for serving.

Using kitchen shears, cut along the center of the top (rounded) side of one of the lobster shells, cutting from the wider end to the tail. Turn the lobster tail over and make the same cut, again starting at the wider end and cutting toward the tail. Using a knife, cut through the meat and the tail to divide the tail lengthwise into two pieces. Repeat with the remaining lobster tails.

Brush the meat side of the lobster with some of the butter reserved for grilling. Grill the lobster tails, meat side down, over direct medium heat, with the lid closed, for 2 to 3 minutes, depending on their size. Brush the tops of the shells with a little more of the butter, turn them over, and grill just until the meat is white and firm but not dry, 5 to 8 minutes more. Remove from the grill and serve the lobster warm with the reserved butter. Tip: Be sure to allow the lobster tails, which are sold frozen, to thaw gently. Don't attempt to rush the process in a microwave oven, or the delicate meat will turn tough.
More

Seafood recipes
You May Also Like
More

Seafood recipes
You May Also Like