the

Ingredients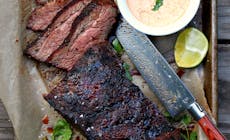 Rub
Special Equipment
Take Your Grilling Anywhere
FIRE
UP

YOUR GRILL
Instructions
In a small bowl combine the rub ingredients.

Place the steak in a baking dish. Coat the tri-tip on all sides with the rub. Cover with plastic wrap and refrigerate for at least 4 hours or up to 24 hours. Remove from the refrigerator 30 minutes before grilling.

In a small bowl whisk the sauce ingredients. Refrigerate until use.

Prepare the grill for direct and indirect cooking over medium heat (350° to 450°F).

Sear the tri-tip over direct medium heat, with the lid closed, for 10 minutes, turning once. Transfer to indirect medium heat and grill, with the lid closed, until an instant-read thermometer inserted into the thickest part of the roast registers 125°F, 20 to 30 minutes for medium rare (or your preferred doneness). Remove from the grill, and rest at room temperature, indoors, for 10 to 15 minutes.

Slice the meat across the grain. Serve with the adobo sauce.
More

Red Meat recipes
You May Also Like
More

Red Meat recipes
You May Also Like