the

Ingredients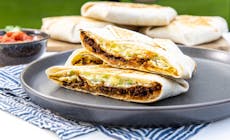 Seasoning blend
Take Your Grilling Anywhere
FIRE
UP

YOUR GRILL
Instructions
Preheat the griddle to medium heat for 10 minutes then squeeze about 2 tbsp of the oil onto the griddle and spread evenly with the back of a spatula.

Mix the seasoning blend ingredients together in a small bowl.

Add the ground beef to the griddle and sprinkle with the seasoning blend. Cook, breaking into crumbles, until the beef is no longer pink, 4–5 minutes; set aside. Reduce the heat to medium.

To prepare the crunch wraps, cut two of the flour tortillas into quarters. Top each of the remaining six tortillas with 2 tbsp refried beans, 2 tbsp of nacho cheese sauce, ½ cup of ground beef, then the tostada shell.

Top the tostada with 2 tbsp of sour cream, ⅓ cup lettuce, and ⅓ grated cheese. Top with 1 of the tortilla quarters you cut earlier, then fold the flour tortilla over the ingredients in the shape of a hexagon.

Squeeze the remaining oil onto the griddle, and place each crunch wrap, folded side down, onto the griddle. Cook until golden brown, 3–4 minutes, then flip and cook the flat side until golden brown, 3–4 more minutes.

Let rest for 2–3 minutes before serving.
More

Red Meat recipes
You May Also Like
More

Red Meat recipes
You May Also Like