the

Ingredients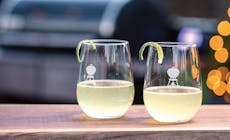 Special Equipment
large disposable foil pan
Pellet Flavors
Take Your Grilling Anywhere
FIRE
UP

YOUR GRILL
Instructions
Prepare the SmokeFire Wood Pellet Grill for low heat, 250º F.

To make smoked ice, fill a foil pan with water. Smoke the pan with water over indirect heat for 2 hours, stirring on occasion.

Remove, pour the smoked water into ice cube trays, and place the trays in the freezer until frozen.

Place 6 smoked ice cubes in a kitchen towel and smash against the counter top, or with a rolling pin, until broken.

Fill a cocktail shaker with smoked ice pieces. Add Mezcal, lime juice, and agave syrup. Shake until well-chilled.

Strain into a flute or wine glass. Top with Champagne.

Garnish with lime peel.
let's

Gear up
Recommended Tools
let's

Gear up
Recommended Tools

More

All Recipes recipes
You May Also Like
More

All Recipes recipes
You May Also Like