Game Day with Weber Grill Masters
There are the teams, pageantry, halftime show, and celebrity-filled commercials. But the big attraction for the "big game" isn't anything happening on the field or the TV. It's the food.
No one knows this better than Weber's Grill Masters. American football's biggest stage has become a global phenomenon that has been used as inspiration to create amazing food and memorable gatherings.
Here is how some of our Grill Masters at home and abroad tackle the big event.
Canadian Grill Master
Michael P. Clive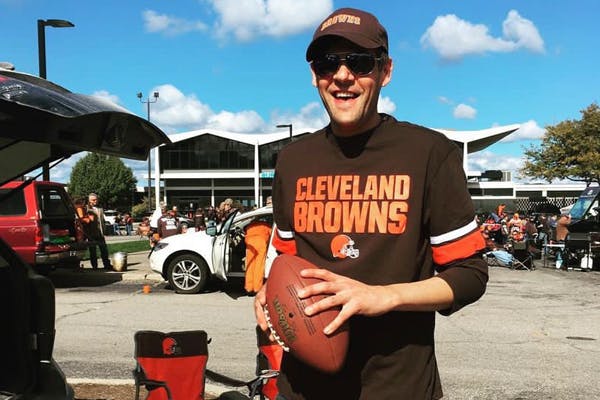 Of course we celebrate the Big Game in Canada!

As a neighboring country to the U.S. of A, we LOVE the NFL. Especially teams close to the border, such as Buffalo, Cleveland, Pittsburgh, and Detroit. Not only do a lot of us super fans travel to the U.S. for the games, but Canada actually hosts a few NFL stadium games here in Toronto a couple of times every year.
Football Sundays are packed with NFL fans
Particularly in Toronto, being such a diverse community to begin with. What's even crazier, is that in cities like Toronto, we'll have about 32 bars dedicated to the 32 different NFL teams, all in one city vs regionally driven team bars. If I want to root for Cleveland, I'll go down to JP's, just as easily as watching the New England game over at Sharkey Blues.
But what we really need to get better at in Canada is tailgating
To the point where we are even working on passing laws to allow it! America just really has it down. The tailgating scene is second to none and we want it here, too!
This is what I do to celebrate THE BIGGEST game in February
I theme it up!! It's probably no surprise that I'm all about the food, and my spread is dependent on who's in the game. For example, if New York and New England are playing, I'll do a New York worthy brisket, and a smoked clam chowder or oversized lobster roll. But let me guess. You were thinking I'd say a maple syrup chicken wing, right? Although my maple syrup chicken wings are worthy of their own ring.
Let's end this with some controversy – Hockey or American Football?
(American) football. Yeah, it's a very contentious subject among my friends that I don't have a favorite hockey team. Most people around here will say Montreal or Toronto. But as I understand it, it only comes with misery year-after-year and I have enough of that from Cleveland so…
All-pro Big Game food inspiration
Brisket: When I host the party, I'll roll out a brisket and I'll also the take a portion of that and make burnt ends, things that they can just quickly grab with a toothpick.
Meatballs: I'll do a play on the meatballs. I'll do sort of an Asian style meatball dish, glaze it with, sort of a sweet teriyaki sauce and sesame seeds that are toasted. Maybe do something a little familiar, but a twist on it.
Pulled Pork: Always a fan favorite. Just because you can put out all of those condiments, like crispy onions, tangy dill pickles, and a nice warming dish full of all-night smoked pulled pork accompanied by an array of BBQ sauces.
US Grill Master
Kelsey Heidkamp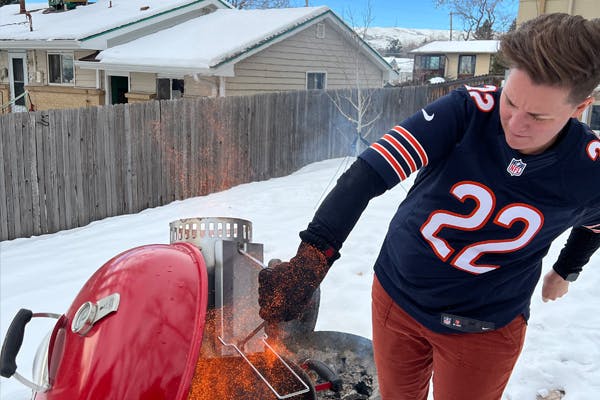 "I truly love hosting parties with friends and family. There really is nothing better than grilling up a wonderful spread of delicious food and watching everyone you love enjoy it!
Football & food. What else matters?
I'm a huge Chicago sports fan. I grew up rooting for the Bears, Cubs, Bulls, and Blackhawks. So, my ideal Big Game would be seeing the Bears in it, but let's not go there this year…and just focus on the food and vibes! For me it is important to have a variety of food for all guests and always one or two specialty cocktails. Aside from the food, I focus on ensuring the vibes are comfortable and chill. For the Big Game, we heat our garage and watch on the big screen on our comfy couch and pillows. We always have the speakers set to our favorite jams, while darts and other games are going on in the background. Let's face it - it's not always about watching the actual game for every guest, some want to come and enjoy company, play games, and socialize.
It's ALL ABOUT THE APPS!
I truly love hosting parties with friends and family. There really is nothing better than grilling up a wonderful spread of delicious food and watching everyone you love enjoy it!
But for the Big Game, I take it to the next level and serve my guests a spread of various appetizers and I try my best to include items they wouldn't find on a standard bar menu. I'll focus more on unique, elevated appetizers rather than a main entrée, this also helps ensure there is something for everyone. Some of my favorite appetizer options are; Tri-Tip Tacos, smoked cheese and meat charcuterie boards, hummus and grilled vegetables, char grilled oysters, smoked pigs in a blanket, and roasted salsa with chips. And we always have grilled guacamole and chips, this is a standard at any party we host, because let's be honest who doesn't love tasty guacamole?!
So let me tell you about my melt-in-your-mouth Short Rib Nigiri.
A big fan favorite is my sushi inspired, Short Rib Nigiri. You have probably have had short rib in your life, especially if you're a Weber fan. It's traditionally braised over a long period of time and turns into the consistency similar to pot roast, or a pulled beef. However, when you smoke it over a long period of time and then let it rest, it creates this delicious exterior bark and savory, melt-in-your-mouth texture. Smoked short ribs are similar to brisket, but better in my opinion. In the Weber Connect app we have worked on providing a detailed step-by-step guide to smoking a basic short rib, so if you are looking to try this out for the first time, I'd highly recommend starting there!
I'd say one of the trickiest things about this recipe is the part that doesn't require a grill. You have to make sure that the rice balls don't fall apart, so make sure that you have the right type of rice, which is sushi rice. I have a rice maker at home, so it makes things a little easier, but just allow enough time for the rice to cool after cooking, so you can form it into nice nigiri pieces. I then top it off with a homemade spicy mayonnaise and a cilantro garnish for beautiful presentation. I'm no sushi chef, but the flavor and uniqueness of this appetizer is a touchdown for your game day spread.
Around this time, everybody asks me for my go-to wing recipe
…as for wings, I keep it easy with the sauce and focus on getting the protein done right. It's all about making sure you prep and cook them correctly. I prefer smaller sized chicken wings and separate the flat from the drum and remove the wing tips. Again, focusing on finger sized foods! The next part is making sure they are cooked with the perfect amount of crispiness. This starts by coating your wings in olive oil and seasoning with salt and pepper. Then take them to the grill, first grilling over direct medium-high heat, turning once or twice, until the skin develops a nice crisp. You can do this with any grill in your backyard, just know when to be over direct and when to be indirect. For larger wings you may need to finish off over indirect heat, just keep an eye on the skin of the wing and don't forget your timer! After they are beautifully grilled, it's time to sauce. I prefer the best bottled BBQ sauce around town, Sweet Baby Ray's, because that's what I was raised on and it's delicious. Of course, since it's a party, I'll also toss some wings in a good buffalo and teriyaki sauce, so that we have something for everyone's taste. But again, for me it's important to make sure the wings are cooked correctly.
I hope you enjoy my favorite Big Game recipes! Better luck next year to my Bears!
This is a carousel of various images or videos. Use Next and Previous buttons to navigate.

Danish Grill Master
Andri Eyvindsson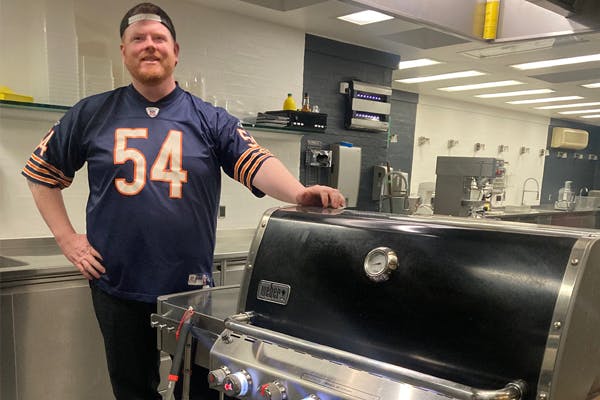 "No football fan in Europe goes to work on the Monday after. I mean, the party doesn't end until 5am; that's definitely not enough time to sober up before heading to the office."
Midnight kickoff party – and playing hooky on Monday
American football, and especially the NFL's grand finale, is surprisingly HUGE in Europe. As a matter of fact, parties, bars, and the big festivities start at MIDNIGHT right at kickoff. So it's an unspoken rule that no real football fan in Europe goes to work on the Monday after. I mean, the party doesn't end until 5am; that's definitely not enough time to sober up before heading to the office. And it's only getting bigger, louder, and crazier, thinking back to working at a sports bar about 12 years ago.
Game-time grub with a Nordic twist
The expectation is to go all-in American on Big Game nights. Chicken wings, big sloppy burgers, and all that stuff. But I'll always put a Nordic or Scandinavian twist to otherwise American dishes.
For example, blueberries were very much part of my childhood, so whenever I do the barbecue sauce for the ribs, I always have blueberries or black currant. It gives a nice color and also a really fruity flavor. Barbecue culture in the U.S. is so spicy and high in salt and acidity, that I like to tone them down a little bit, with my own flavors.
A fun fact is that I get mistaken for a pro football in public
I have a Chicago Bears jersey that says Urlacher on the back of it. Almost every time I wear it in public, like the supermarket, I get stopped and asked "do you play football??" I'm a pretty big guy – 6'5" – and even though I'm a chef, I look more like a football player, especially when dressed the part. I've even been asked to join football teams while grocery shopping. The very daring people simply snap a picture of me and scurry away. It's quite funny.
Like most Weber employees, I'm a Chicago fan.
You'd think it's because of our headquarters being based in Chicago, but I've actually been a Chicago Bulls fan since I could walk. That probably has something to do with why I will also root for the Bears.