CALI COMFORT BBQ'S
SIGNATURE TRI-TIP
In honor of Mental Health Awareness Month, Cali Comfort BBQ owner Shawn Walchef showed us how to grill the perfect tri-tip on the Weber Summit Kamado. Since opening Cali BBQ in 2008, Shawn and his wife Rositsa have incorporated the Bulgarian traditions of hospitality into every facet of their expanding business empire. After struggling with and overcoming addiction, Shawn started a podcast that covers everything from mental health to entrepreneurship. The Digital Hospitality podcast and video series features conversations with digital entrepreneurs, media personalities, online celebrities and more.
Thanks to Shawn and the Cali BBQ team for sharing their tri-tip recipe with us.
This is a carousel of various images or videos. Use Next and Previous buttons to navigate.
Ingredients
Rub
4 tablespoons granulated garlic
3 tablespoons medium grind kosher salt
3 tablespoons course ground black pepper
2 tablespoons dried parsley flakes
1 tri-tip roast (also called triangular roast), about 2 lbs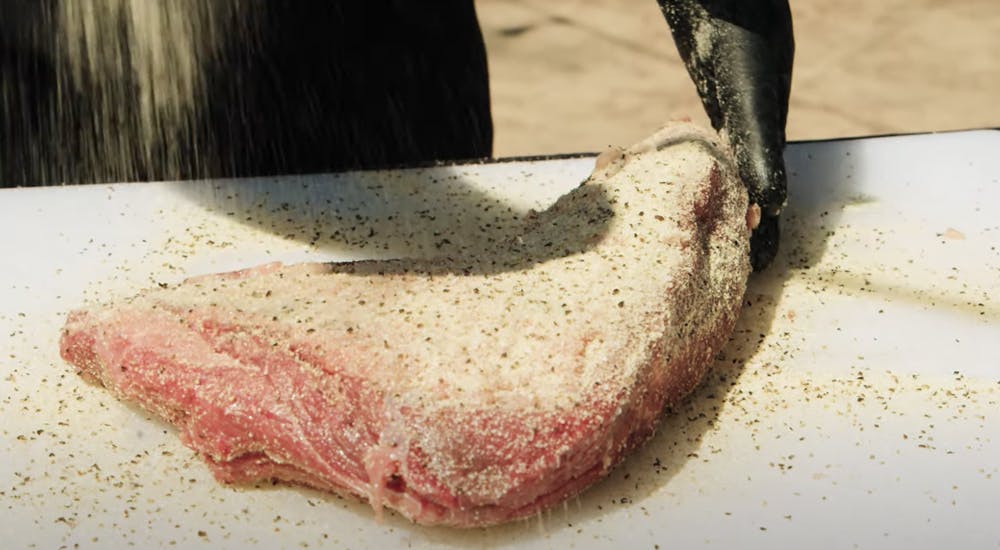 Instructions
Prepare the grill for smoking at 225*F. On the Summit Kamado, arrange Char-Baskets on opposite sides of the fuel grate for indirect heat. For added flavor, use Pecan Wood Chunks directly on the fuel grate. Insert diffuser plate above the fuel.
Trim the fat cap of the tri-tip to approximately 1/8-1/4 inch.
In a small bowl, mix the rub ingredients. Cover all sides of the protein well.
Brush the cooking grates clean. Smoke the tri-tip at 225*F for about 45-60 minutes, until the internal temperature reaches 110*F.
Prepare the grill for direct heat at 500*F. On the Summit Kamado, remove the diffuser plate and put the Char-Baskets together in the middle of the fuel grate.
Place the tri-tip fat side down directly over the heat. Once desired char has been achieved, flip the tri-tip. When the tri-tip has been evenly charred, remove from heat.
Place the tri-tip in a foil pan with aluminum foil on top and rest for 10 minutes.
Slice the tri-tip to 1/4 inch, slicing against the grain. Place the slices back in the foil pan and toss to reclaim juices from resting.
Serve as desired. Shawn and Derrick recommend mixing 1 stick of room temperature butter with 2 cloves of fresh chopped garlic and spreading on toasted bread rolls before piling high with tri-tip.