Serves: 4 // Prep time: 20 minutes | Grilling time: 20 to 24 minutes
Ingredients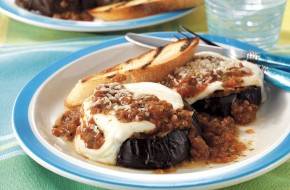 8 plum tomatoes
2 slices yellow onion, each about ½ inch thick
Extra-virgin olive oil
½ cup tightly packed fresh basil leaves
1 tablespoon fresh oregano leaves
2 garlic cloves, roughly chopped
Kosher salt
Freshly ground black pepper
1 globe eggplant, about 1 pound, cut crosswise into 8 one-inch slices
4 slices crusty Italian bread, each about 1 inch thick
8 slices fresh mozzarella cheese, each about ¼ inch thick
¼ cup freshly grated Parmigiano-Reggiano® cheese
Instructions
Prepare the grill for direct cooking over medium heat (350° to 450°F).

Lightly brush the tomatoes and onions with oil. Grill over direct medium heat, with the lid closed, until the tomatoes are blackened and blistered in spots and the onion slices are tender, 10 to 12 minutes, turning occasionally. Carefully slip off the tomato skins and discard. In a food processor combine the tomatoes, onion, basil, oregano, garlic, ¾ teaspoon salt, and ¼ teaspoon pepper; puree until smooth, about 1 minute. Transfer the sauce to a medium saucepan and bring to a boil. Then reduce the heat and simmer gently until the sauce is thickened, about 10 minutes, stirring occasionally.

Brush the eggplant with oil and season generously with salt and pepper. Brush the bread on both sides with oil and season lightly with salt. Grill the eggplant over direct medium heat, with the lid closed, until marked and tender but not limp, 10 to 12 minutes, turning once. During the last minute of grilling time, toast the bread over direct heat, turning once, and top each eggplant slice with two tablespoons sauce and a slice of mozzarella cheese to melt. Remove from the grill and top the eggplant with the remaining sauce and Parmigiano-Reggiano cheese. Serve warm with the bread.