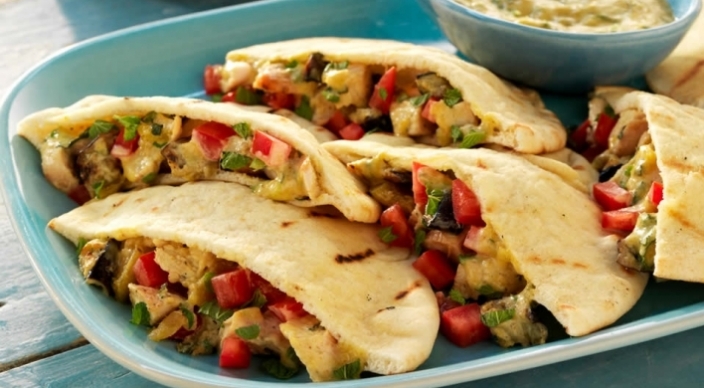 Serves: 4 // Prep time: 30 minutes | Grilling time: 8 to 12 minutes
Ingredients
Dressing
½ cup mango or apricot chutney
½ cup mayonnaise
⅓ cup chopped scallions (white and light green parts only)
3 tablespoons finely chopped fresh mint leaves
2 teaspoons curry powder
---
4 boneless, skinless chicken breast halves, each about 6 ounces
4 tablespoons extra-virgin olive oil, divided
Kosher salt
Freshly ground black pepper
1 eggplant, about 12 ounces, trimmed, cut crosswise into ½-inch slices
4 pita breads
3 large plum tomatoes, roughly chopped (about 1½ cups)
½ cup loosely packed fresh mint leaves
Instructions
Prepare the grill for direct cooking over medium heat (350° to 450°F). 

In a medium bowl whisk the dressing ingredients. Set aside.

Coat the chicken breasts with 1 tablespoon of the oil and season evenly with ¾ teaspoon salt and ½ teaspoon pepper. Coat the eggplant slices with the remaining 3 tablespoons oil and season evenly with ¾ teaspoon salt and ½ teaspoon pepper. 

Brush the cooking grates clean. Grill the chicken breasts, smooth (skin) side down first, and the eggplant slices over direct medium heat, with the lid closed as much as possible, until the chicken is firm to the touch and opaque all the way to the center and the eggplant is very tender and grill marks appear, 8 to 12 minutes, turning once or twice. During the final 1 to 2 minutes of grilling time, grill the pita breads over direct heat just until warm and slightly softened, turning once or twice. Remove the chicken, eggplant, and pitas from the grill and let the chicken and eggplant rest just until cool enough to handle, about 3 minutes.

Roughly chop the chicken and the eggplant and transfer the pieces to a large bowl. Add half of the dressing and stir to coat. Taste and adjust the seasoning with more salt and pepper, if desired. 

Cut the pita breads in half crosswise. Fill with the chicken-eggplant mixture, tomatoes, and mint leaves. Serve with the remaining dressing.