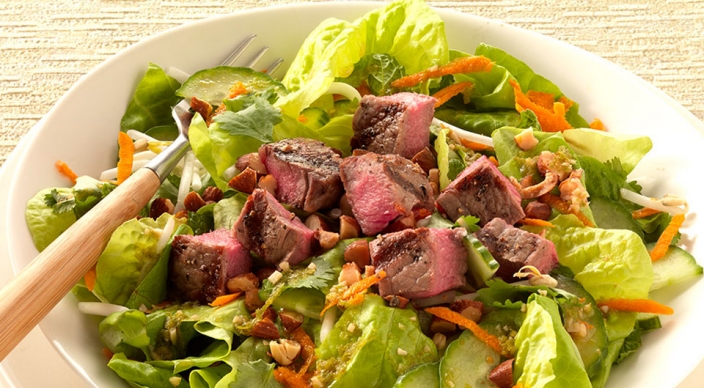 Serves: 4 // Prep time: 30 minutes | Grilling time: 6 to 8 minutes
Ingredients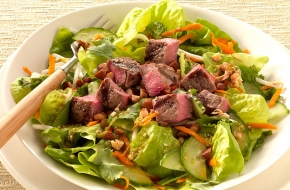 2 boneless rib eye steaks, each about 12 ounces and 1 inch thick
Extra-virgin olive oil
Kosher salt
Ground black pepper
Dressing
Finely grated zest of 1 lime
2 tablespoons fresh lime juice
1 teaspoon Vietnamese or Thai fish sauce
1 teaspoon soy sauce
½ teaspoon minced garlic
½ teaspoon granulated sugar
¼–1 teaspoon hot chili-garlic sauce, such as Sriracha
Salad
1 head Bibb or Boston lettuce, about 6 ounces, roughly chopped
1 cup bean sprouts
1 cup coarsely grated carrot
½ English cucumber, halved lengthwise and thinly sliced crosswise
½ cup coarsely chopped smoked almonds
¼ cup roughly chopped fresh mint leaves
¼ cup roughly chopped fresh cilantro leaves
Instructions
Lightly brush the steaks on both sides with oil and season evenly with salt and pepper. Allow the steaks to stand at room temperature for 15 to 30 minutes before grilling.

Prepare the grill for direct cooking over high heat (450° to 550°F).

In a small bowl whisk the dressing ingredients. Slowly add ¼ cup oil in a steady stream, whisking constantly to emulsify the dressing. Season with salt.

In a large serving bowl combine the lettuce, bean sprouts, carrot, and cucumber.

Brush the cooking grates clean. Grill the steaks over direct high heat, with the lid closed as much as possible, until cooked to your desired doneness, 6 to 8 minutes for medium rare, turning once or twice (if flare-ups occur, move the steaks temporarily over indirect heat). Transfer to a cutting board and let rest for 3 to 5 minutes. Cut the steak into ½-inch pieces.

Whisk the dressing again and pour it over the salad. Toss well. Add the steak and any collected juices from the cutting board to the salad along with the almonds, mint, and cilantro. Mix well. Serve immediately.