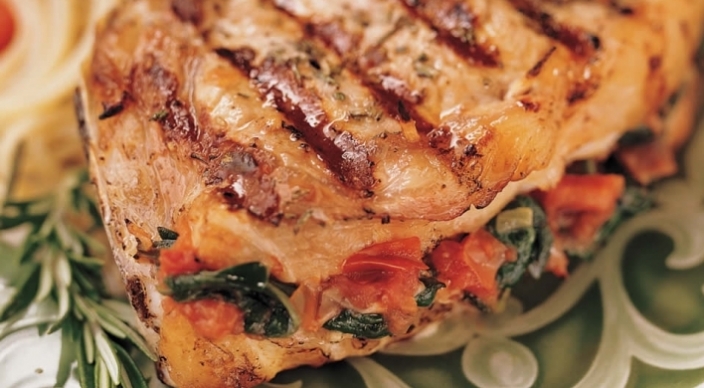 Serves: 4 // Prep time: 25 minutes | Grilling time: 15 to 20 minutes
Ingredients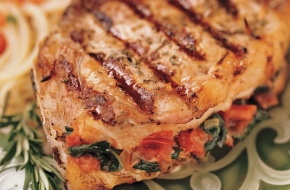 Stuffing
1 tablespoon extra-virgin olive oil
½ cup finely chopped yellow onion
2 teaspoons minced garlic
2 plum tomatoes, cored, seeded, and chopped
1 package (10 ounces) frozen chopped spinach, defrosted and squeezed very dry
3 slices prosciutto (about 2 ounces), finely chopped
½ cup coarsely grated fontina cheese
½ teaspoon kosher salt
¼ teaspoon freshly ground black pepper
Rub
2 teaspoons finely chopped fresh rosemary leaves
½ teaspoon kosher salt
½ teaspoon freshly ground black pepper
---
4 veal loin chops, each about 12 ounces and 1¼ to 1½ inches thick, trimmed of excess fat
Extra-virgin olive oil
Instructions
In a large sauté pan over medium heat, warm the oil and cook the onion until soft, 5 to 6 minutes. Add the garlic and cook for 1 minute more. Add the tomatoes and cook for 3 minutes, then add the spinach and cook for 2 minutes. Remove from the heat and allow to cool for 3 or 4 minutes, and then add the remaining stuffing ingredients. Divide the stuffing into four portions.

In a small bowl combine the rub ingredients.

Cut a pocket in the side of each chop. Push the stuffing into the pockets and close with toothpicks. Lightly brush the chops on both sides with oil and season evenly with the rub. Allow to stand at room temperature for 15 to 30 minutes before grilling.

Prepare the grill for direct cooking over medium heat (350° to 450°F).

Brush the cooking grates clean. Grill over direct medium heat, with the lid closed as much as possible, until cooked to your desired doneness, 15 to 20 minutes for medium rare, turning once. Remove from the grill and let rest for 3 to 5 minutes. Serve warm.