the

Ingredients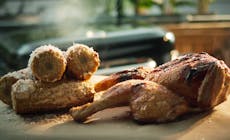 Special Equipment
Take Your Grilling Anywhere
FIRE
UP

YOUR GRILL
Instructions
Preheat the grill with the control knob in the high position for 10 to 15 minutes.

Place the chicken, breast side down, on a work surface. Using poultry shears, cut from the neck to the tail end, along either side of the backbone. Remove the backbone. Once the backbone is out, you'll be able to see the interior of the chicken. Make a small slit in the cartilage at the bottom end of the breastbone. Turn the chicken over so that it is skin side up. Place both hands on the breast and push down. You will hear the breastbone and cartilage snap. The chicken should now lie flat. Fold the wing tips behind the chicken's back to prevent them from burning.

Brush the chicken all over with oil and season evenly with 1 tablespoon of the salt and ½ teaspoon of the pepper.

Insert the probe of Weber Connect Smart Grilling Hub: For an accurate reading, ensure that the probe tip is inserted 2 inches into the side of the thickest part of the breast (not touching the bone).

Brush the corn all over with oil and season with the remaining ½ tablespoon salt and ½ teaspoon pepper. 

In a small serving bowl mix the chili mayo ingredients and set aside.

Brush the cooking grates clean with a stainless steel bristle grill brush. 

Turn the control knob to the medium heat setting.

Grill the chicken, bone side down first, over direct medium heat, with the lid closed, for 15 minutes. Turn the chicken over and continue cooking until the internal temperature reaches 160° to 165°F, 30 to 35 minutes more. Remove from the grill and let rest at room temperature, indoors, for 10 minutes.

While the chicken rests, grill the corn over direct medium heat, with the lid closed, until browned in spots and tender, 8 to 10 minutes, turning occasionally. Remove from the grill and spread the chili mayo all over the corn. Top with the Parmesan cheese and the red pepper flakes.

Cut the chicken into serving pieces and serve warm with the corn.
More

Poultry recipes
You May Also Like
More

Poultry recipes
You May Also Like