the

Ingredients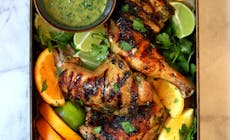 Marinade
Special Equipment
Take Your Grilling Anywhere
FIRE
UP

YOUR GRILL
Instructions
In the bowl of a food processor combine all of the marinade ingredients. Process to blend.

Put the chicken a large resealable plastic bag, add the marinade, and seal closed. Turn the bag to distribute the marinade evenly, then refrigerate for 4 to 24 hours, turning the bag occasionally.

Prepare the grill for indirect and direct cooking over medium heat (350° to 450°F).

Lift the chicken out of the marinade, letting any excess liquid drip back in the bag. Pour the marinade into a small saucepan. Bring to a boil over medium heat and boil for 2 minutes. Remove from the heat and cool to room temperature.

Grill the chicken, skin-side up, over indirect medium heat, with the lid closed, for 40 minutes, then move to direct medium heat. Continue to grill, with the lid closed, until an instant-read thermometer inserted into the thickest part of the chicken (not touching the bone) registers 165°F and the chicken is well marked, 8 to 10 minutes more, turning as needed. Remove from the grill, and rest at room temperature, indoors, for 3 to 5 minutes.
More

Poultry recipes
You May Also Like
More

Poultry recipes
You May Also Like