Pulse 2000 Electric Grill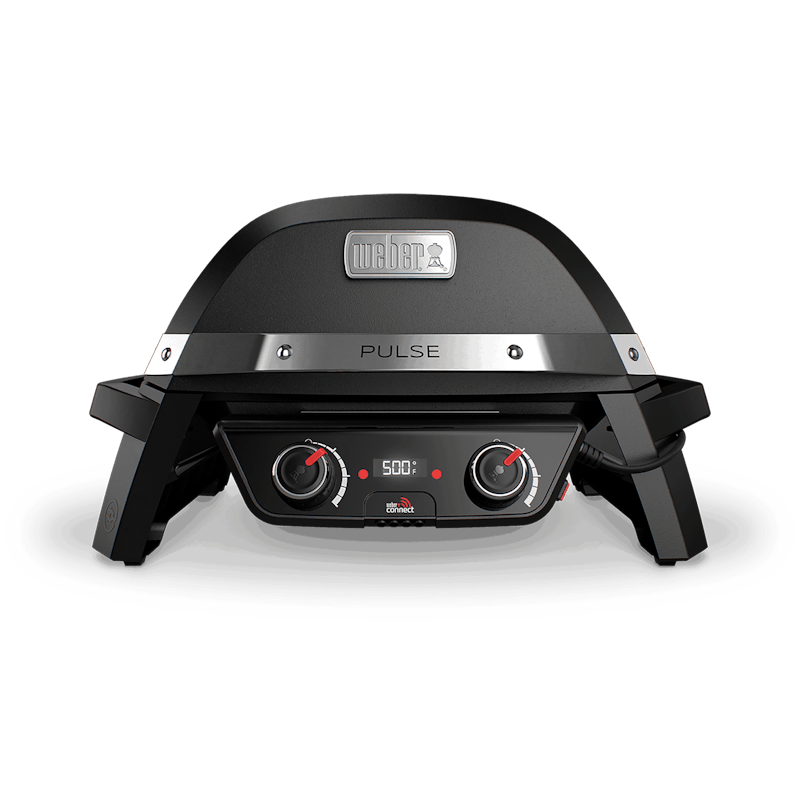 The Pulse 2000 Electric Grill is for the experienced griller who expects high-performance with convenience. Simply plug in, power on, and allow the digital precision temperature control to preheat to the desired temperature while the integrated Weber Connect smart technology provides precision grilling that delivers great results every time. Enjoy easy and convenient modern grilling with an authentic taste.
• Pulse operates on 13 amps of electrical current
• Maximum temperature of 600° F
• Digital precision temperature control provides consistent temperatures
• Weber Connect technology includes guided grilling with recipes
• Weber Connect App remotely monitors grill and food temps
• Dual zone grilling to simultaneously grill different foods
Complete the Set

Pulse 2000 Electric Grill Cart

Premium Grill Cover – Pulse with cart

Drip Pans - WEBER Q, PULSE, WEBER TRAVELER, SPIRIT, SPIRIT II, 2022 GENESIS 300/400, GENESIS II 200/300, GENESIS
Carousel containing list of product recommendations. Please use left and arrows to navigate.
Pulse 2000 Electric Grill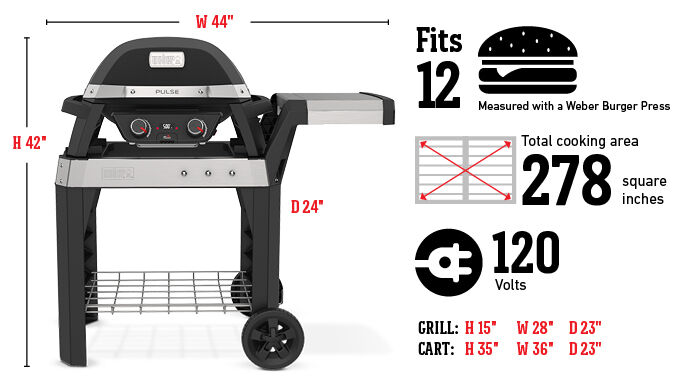 Dimensions - Lid Open (inches)

30" H x 28" W x 23" D

Dimensions - Lid Closed (inches)

15" H x 28" W x 23" D

Total cooking area (square inches)

278 sq. in.
Fuel type

Electric

Power

120 V

Meat Probes Included

2
View All Specifications
Warranty Information
Frequently Compared

Pulse 2000 Electric Grill

Price:

Dimensions - Lid Open (inches):

30" H x 28" W x 23" D

Dimensions - Lid Closed (inches):

15" H x 28" W x 23" D

Total cooking area (square inches):

278 sq. in.

Fuel type:

Electric

Weber® Q 2400 Electric Grill

Price:

Dimensions - Lid Open (inches):

26"H x 31.5"W x 25.1"D

Dimensions - Lid Closed (inches):

14.5"H x 31.5"W x 19.5"D

Primary cooking area (square inches):

280

Total cooking area (square inches):

280

Weber® Q 1400 Electric Grill

Price:

Dimensions - Lid Open (inches):

23.5"H x 27"W x 20.5"D

Dimensions - Lid Closed (inches):

14.5"H x 27"W x 16.5"D

Primary cooking area (square inches):

189

Total cooking area (square inches):

189