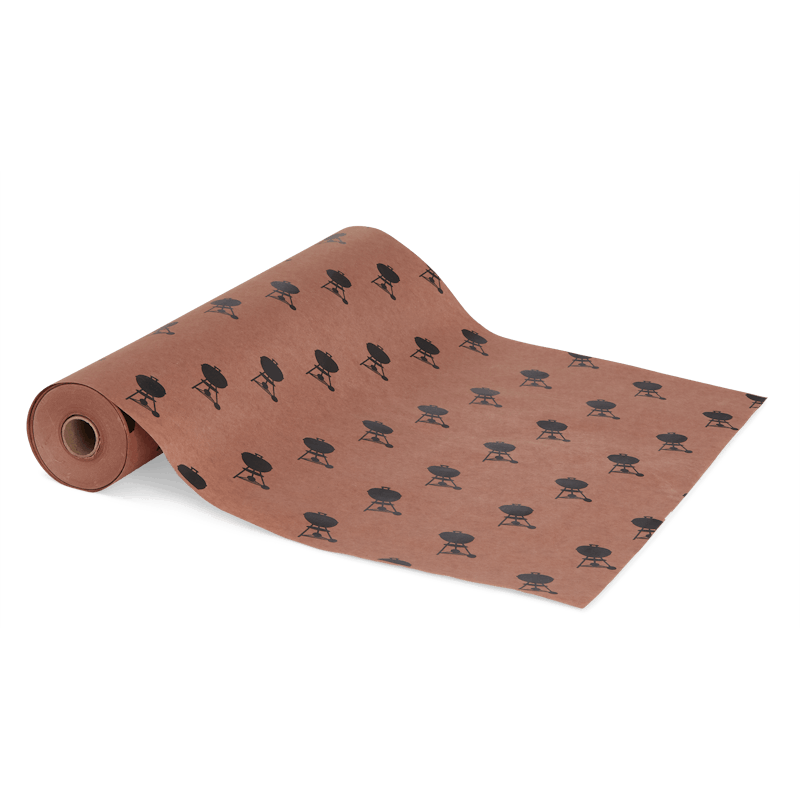 Serve moist, flavorful meat, with the perfect bark by wrapping it in Weber Butcher Paper. Wrapping your meat at the tail end of a low and slow smoke helps to retain moisture. Weber Butcher Paper is also stamped with Weber Kettles for a fun presentation.
• FDA compliant, food-grade butcher paper with food-grade ink, safe to be used on food
• Unwaxed, uncoated, unbleached for food safety
• Made from 100% natural base virgin pulp
• Use when smoking meats, for serving food, or even wrapping presents
• 18 in x 150 ft / 45.72 cm x 45.72 m
Complete the Set


Weber Silicone Grilling Gloves
Carousel containing list of product recommendations. Please use left and arrows to navigate.
Professional Grill Assembly for $99

Book a professional to help assemble this grill for only $99. All bookings and inquiries are handled by Handy.

Learn More
Out Of Carton Dimensions

3.13"H x 18"W x 3.13"D

Individual Carton Dimensions

4"H x 19.13"W x 3.82"D
Wood Pellet Accessories
Keep Exploring
Frequently Asked Questions
A perfect brisket will have a nice dark crust on the surface called a 'bark' and will be tender and moist inside. Meat will develop a bark when cooking in it the open. To protect the meat from drying out during the last few hours of a low and slow cook, wrap the meat when it reaches somewhere between 150° and 160° F in the thickest part of the meat. Keep it wrapped while cooking until it reaches 195–204° F. Transfer the brisket, still wrapped, to a dry, insulated cooler. Close the lid and let the meat rest for 2 to 4 hours before unwrapping and slicing.
They are made differently and have different uses. Weber butcher paper is unwaxed, uncoated, unbleached paper that can protect meat from drying out at the tail end of a long cook, while also letting it breathe and not over steam. Parchment paper has a coating to make it non-stick, which also makes it not breathable. It's typically used as a liner in baking.
Wrapping a brisket a few hours before it's done protects the meat from drying out. Using butcher paper instead of foil has less potential for over steaming the meat because the paper will breathe.