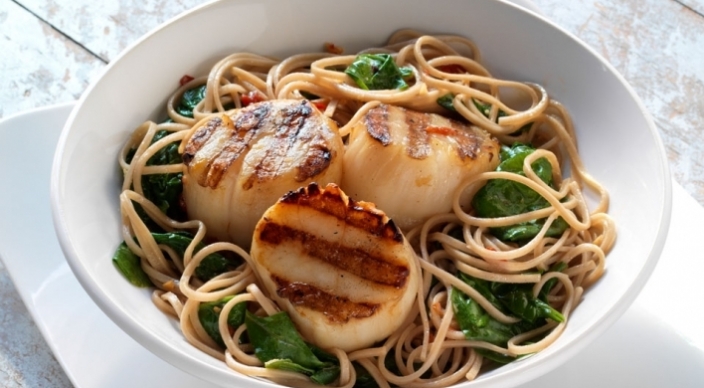 Serves: 4 // Prep time: 25 minutes | Marinating time: 1 hour | Grilling time: 4 to 6 minutes
Ingredients
Marinade
2 tablespoons low-sodium soy sauce
1 tablespoon hot chili-garlic sauce, such as Sriracha
1 tablespoon fresh lime juice
1 tablespoon extra-virgin olive oil
1 tablespoon peeled, grated fresh ginger
1 large garlic clove, minced
---
12 large scallops, each about 2 ounces
Noodles
1 package (10 ounces) soba noodles
2 tablespoons toasted sesame oil, divided
1 tablespoon low-sodium soy sauce
1 tablespoon fresh lime juice
2 teaspoons hot chili-garlic sauce, such as Sriracha
1 tablespoon extra-virgin olive oil
1 large garlic clove, minced
1 tablespoon peeled, grated fresh ginger
1 bag (12 ounces) fresh baby spinach
Instructions
In a large bowl whisk the marinade ingredients. Rinse the scallops under cold water and then pat dry with paper towels. Remove and discard the small, tough side muscle that might be left on each scallop. Place the scallops in the large bowl with the marinade and toss to coat evenly. Cover the bowl and refrigerate for 1 hour.

Cook the noodles until tender but still al dente, according to package directions. Drain the noodles, rinse with cold water, drain again, and toss with 1 tablespoon of the sesame oil. 

Prepare the grill for direct cooking over high heat (450° to 550°F). 

In a small bowl whisk the remaining 1 tablespoon sesame oil, the soy sauce, lime juice, and chili-garlic sauce. Set aside. In a deep skillet or large pot over medium-high heat, warm the olive oil. Add the garlic and ginger and sauté until fragrant, about 30 seconds. Add the spinach and sauté until it is just beginning to wilt, 1 to 2 minutes. Remove the skillet from the heat and stir in the noodles and the reserved soy-chili mixture. Toss thoroughly to combine. Cover the pan and set aside.

Remove the scallops from the bowl and discard the marinade.

Brush the cooking grates clean. Grill the scallops over direct high heat, with the lid closed, until just opaque in the center, 4 to 6 minutes, turning once. Remove from the grill.

Arrange the spinach and noodle mixture in individual serving bowls and top with the scallops. Serve immediately.