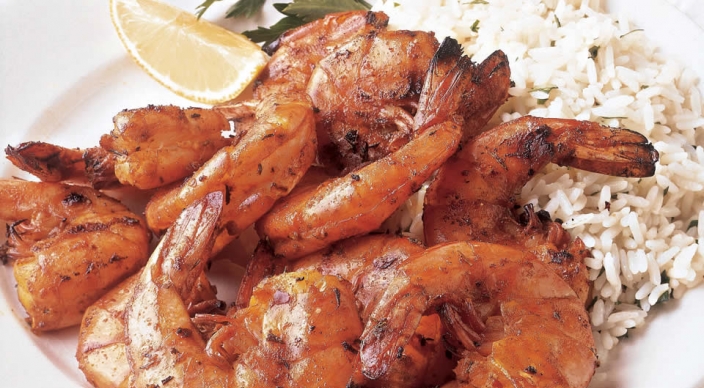 Serves: 4 // Prep time: 20 minutes | Grilling time: 2 to 4 minutes
Ingredients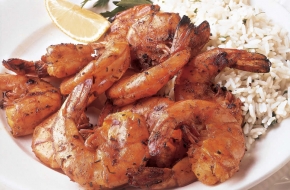 Marinade
6 tablespoons unsalted butter
2 teaspoons minced garlic
1 tablespoon fresh lemon juice
2 teaspoons finely chopped fresh thyme
2 teaspoons paprika
½ teaspoon kosher salt
¼ teaspoon ground cayenne pepper
¼ teaspoon turmeric
---
1½ pounds large shrimp (21/30 count), left in their shells
Instructions
In a small sauté pan over medium heat, melt the butter. Add the garlic and cook until soft, 2 to 3 minutes, stirring occasionally. Remove from the heat and add the remaining marinade ingredients. Stir and allow to cool to room temperature.

Using a sharp knife, split open the back of each shrimp and devein it. Place the shrimp in a large, resealable plastic bag and pour in the marinade. Press the air out of the bag and seal tightly. Turn the bag to distribute the marinade, place in a bowl, and refrigerate for 20 to 30 minutes.

Prepare the grill for direct cooking over high heat (450° to 550°F).

Remove the shrimp from the bag and grill the over direct high heat, with the lid closed as much as possible, until the shrimp are just opaque in the center and firm to the touch, 2 to 4 minutes, turning once. Remove from the grill and serve warm or at room temperature with rice, if desired.