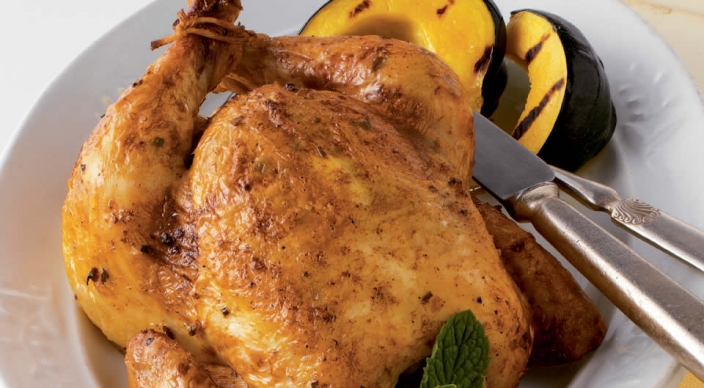 Serves: 4 // Prep time: 35 minutes | Grilling time: 45 to 55 minutes | Special equipment: butcher's twine
Ingredients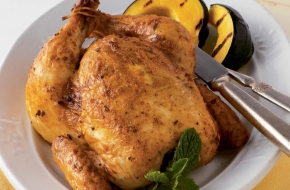 Butter
1 tablespoon minced garlic
1 teaspoon kosher salt
½ cup (1 stick) unsalted butter, softened
1 tablespoon finely chopped fresh mint leaves
½ teaspoon finely grated lime zest
2 teaspoons fresh lime juice
½ teaspoon prepared chili powder
¼ teaspoon freshly ground black pepper
---
4 Cornish hens, each 1¼ to 1½ pounds, wing tips removed
Instructions
Prepare the grill for indirect cooking over high heat (450° to 550°F).

Roughly chop the garlic and then sprinkle the salt on top. Using both the sharp edge and the flat side of a knife blade, crush the garlic and salt together to create a paste. Put the paste in a small bowl and add the rest of the butter ingredients. Mix well.

Remove the giblets from the hens and discard. Working from the cavity end of each hen, run your fingers between the skin and flesh of the breasts and legs to loosen the skin without tearing. Push half of the butter mixture under the skin and massage from the outside to spread the butter mixture evenly over the breasts and legs. Spread the remaining butter over the entire surface of the hens. Truss the hens with butcher's twine.

Brush the cooking grates clean. Grill the hens over indirect high heat, with the lid closed as much as possible, until the juices run clear and the meat is no longer pink at the bone, 45 to 55 minutes. Remove from the grill, loosely cover with foil, and let rest for 3 to 5 minutes. Serve warm.