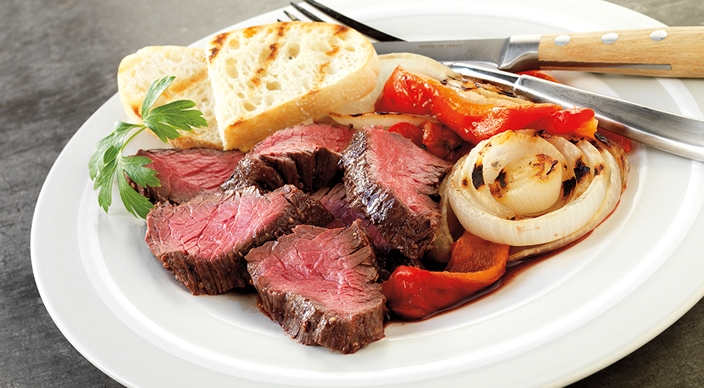 Serves: 4 to 6 // Prep time: 20 minutes | Marinating time: 30 minutes | Grilling time: 24 to 33 minutes
Ingredients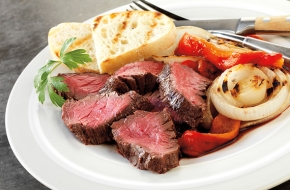 Glaze
¼ cup whole-grain mustard
2 tablespoons red wine
2 tablespoons extra-virgin olive oil
2 teaspoons minced garlic
1 teaspoon minced fresh thyme leaves
1 teaspoon kosher salt
¼ teaspoon freshly ground black pepper
---
2 hanger steaks, each about 1 pound and 1½ inches thick
2 yellow onions, cut crosswise into ½-inch-thick slices
Extra-virgin olive oil
Kosher salt
2 large red bell peppers
1 teaspoon balsamic vinegar
Freshly ground black pepper
6 slices sourdough bread, each about ½ inch thick
Instructions
In a small bowl whisk the glaze ingredients. Place the steaks in a shallow baking dish and cover with the glaze. Turn the steaks to distribute the glaze, and let marinate for 30 minutes at room temperature.

Prepare the grill for direct cooking over medium heat (350° to 450°F).

Brush the onion slices on both sides with oil and season with salt.

Brush the cooking grates clean. Grill the onions and the bell peppers over direct medium heat, with the lid closed, until the onions are tender and the bell peppers are blackened and blistered all over, turning occasionally. The onions will take 8 to 12 minutes, and the bell peppers will take 10 to 15 minutes. Place the bell peppers in a bowl and cover with plastic wrap to trap the steam. Let stand for about 10 minutes.

Increase the temperature of the grill to high heat (450° to 550°F).

Remove the bell peppers from the bowl, discard the charred skin, stem, and seeds, and cut lengthwise into 1-inch strips. Place the peppers and onions on a serving platter and lightly drizzle with oil and the vinegar. Season with salt and pepper.

Sear the hanger steaks over direct high heat, with the lid closed, until nicely charred all over, 6 to 8 minutes, turning once. Move the steaks over indirect high heat and continue grilling, with the lid closed, until cooked to your desired doneness, 8 to 10 minutes more for medium rare. During the last minute of grilling time, toast the bread over direct heat, turning once. Remove the steaks and the bread from the grill and let the steaks rest for 5 to 10 minutes. Cut the steaks into thin slices and serve warm with the peppers, onions, and toasted bread.