Sweet And Savoury Delights
Barbecue Desserts
A true feast should finish with dessert. And why settle for less, when you've got the barbecue fired up and ready? Grilled dessert infused with smoky roast aromas opens up a new world of flavour. From barbecued pancakes and fruit skewers to sweet salsas - beautiful things happen when you mix sweet with savoury barbecue style.
Mixing sweetness with roast aromas isn't new. The trick to mastering barbecue sweets is using flavours that harmonise with the savoury to increase the range and depth of flavour.
Our list of easy-to-make sweet staples and distinctive dishes is a great way to delve into barbecued desserts.
Barbecue Dessert Ideas
Grilled Pancakes
Whether you're on a camping trip with your Smokey Joe portable barbecue, or in the comfort of your own back garden on a Sunday morning, barbecued pancakes are a winning combination. The high, direct heat infused pancakes with hearty, caramelised tones also provide a perfect textural balance – making them crispier outside and fluffy on the inside.
If you're looking to impress, Danish Michelin-star chef Thomas Herman recommends a luxurious berry and mocha pancake with roasted hazelnuts, which perfectly complements the savoury barbecue aromas. Follow his easy pancake recipe in our Grill On Video Series or try our classic pancakes on the BBQ.
Grilled Fruit Desserts
Barbecue enthusiasts know their way around a thick cut of beef, but the rules change for a few delicate slices of apricot or a grilled pineapple dessert. The true beauty of grilling fruit is the unique taste that comes from the caramelisation of the sugars. Keeping a few simple tips in mind to ensure caramelised grilling success, along with adding a scoop or two of ice cream at the end!
Top Tips
For Grilling Fruit​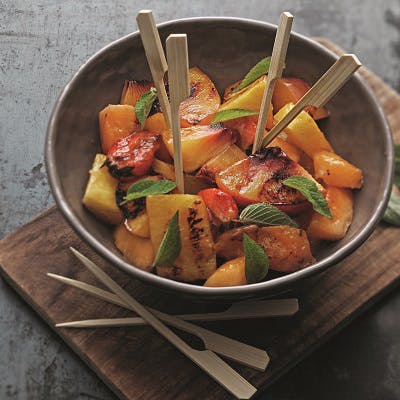 Be patient. Grill fruit slowly for 6-8 minutes at medium heat to ensure the fruit has caramelised properly without burning.
Lightly brush your fruit with a neutral oil that can withstand high temperature.
Don't use overripe or mushy fruit. Caramelisation weakens the structure of the fruit and can cause it to fall apart.
Remember, the higher the water content, the easier it will burn.
Use seasonal, fresh fruit to amp up your flavours.
Sweet, Savoury And Smoky​​
Aside from fruit and pancakes, the most exciting and challenging aspect of more complex grilled desserts is finding the right balance in flavours. For example, heady tastes like chocolate and coffee benefit from deep, smoky aromas.
Try balancing our warm molten chocolate cakes with different berries and experiment with combinations of sweet and tart. Glazing with honey or soaking with spirits also adds new depths to the dish – unmistakable in our rum-soaked marzipan baked apple treat.
Outside the realm of desserts, you can also whip up sweet toppings for your main course on the BBQ. A fruit salsa with barbecued tropical fruit like pineapple, mango, or peach, red pepper, cilantro and lime makes a tasty sweet and savoury topping for grilled pork chops.
Barbecuing Outside The Box​​​​​
Why bring dessert to a barbecue, when you can DIY on the grill?
In the words of Thomas Herman, cooking desserts on the barbecue "challenges you to think out of the box and be creative". Experiment with sweet and savoury in our collection of dessert recipes to discover exciting new flavour combinations infused with barbecue flavours and textures you'll love.
Related Posts