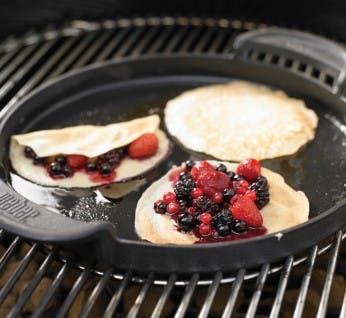 You would be forgiven for thinking that barbecuing pancakes on a cold Tuesday in March was a little odd. If you've never tasted pancakes cooked on a grill, I can understand if you're slightly sceptical.
To those doubters, I tell the tale of my first experience of cooking pancakes outdoors, on a camping trip in Monmouthshire. I had a small and shallow cast iron skillet pan with me which I placed on top of my portable Smokey Joe barbecue. I preceded to make some dream-like pancakes for my camping buddies which are still talked about to this day!
What made them so special? It was the perfect balance of texture that cooking pancakes on a barbecue brings, crispy on the outside and fluffy in the middle.
And then there was also the added bonus: there are no flipping restrictions when you barbecue outside. You can flip away. As high as you like! Safe in the knowledge that any repercussions from a failed flip will be far less severe than if you were attempting this in the kitchen.
So, if my short story has convinced you to give cooking pancakes on your barbecue a go, then here is a quick and easy recipe.
Make sure you have a cast iron pan; I would recommend using the GBS Griddle Pan as it heats up quickly and evenly, ensuring delicious pancakes.Some of the best pancakes I have ever tasted have come from that little beauty.
Another tip before you get started: something I have always done since that camping trip is to make my batter and then store the mixture in a milk bottle. It makes it easy to transport to the barbecue and is easy to pour.
Pre-heat your pan until it's smoking hot, melt a good knob of salty butter and then pour a good dollop of the batter into the pan. Watch as the mixture spreads out, creating tiny bubbles that pop and puff like miniature volcanoes. Once the underside has turned a golden brown, give them a flip and cook until both sides are coloured.
I challenge anybody to give it a go. It really doesn't matter whether you have a gas or a charcoal barbecue they both will produce great results.
While you're out there at the grill, why not simply char grill some pineapple, banana or even pear. They can make the most wonderful fillings. If you're prefer something saucier, a rhubarb compote or Crème de Cassis Stewed Berries provide a mouth-watering topping.
Happy pancake day all!