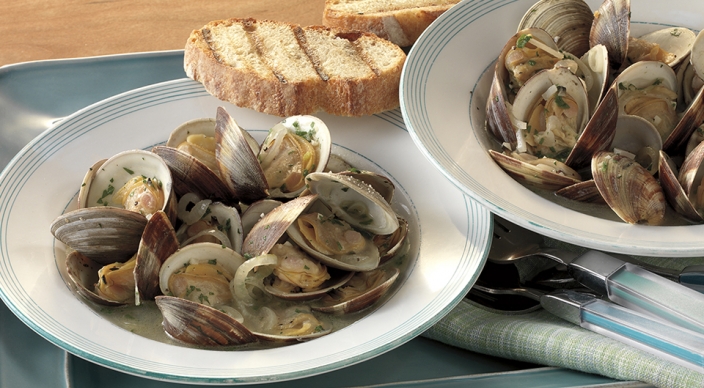 Serves: 4 // Prep time: 15 minutes | Grilling time: 8 to 13 minutes | Special equipment: wok or 12-inch cast-iron skillet
Ingredients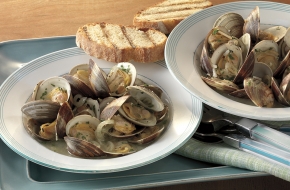 3 pounds manila or littleneck clams
4 tablespoons unsalted butter, divided
1 tablespoon minced garlic
1 cup thinly sliced shallots
1½ cups dry white wine
2 tablespoons finely chopped fresh Italian parsley leaves
Freshly ground black pepper
8 large slices sourdough or country bread, each about ½-inch thick
Instructions
Scrub the clams and rinse them in four rounds of cold water to remove any sand and grit.

Prepare the grill for direct cooking over medium-high heat (400° to 500°F).

In a wok or 12-inch cast-iron skillet over direct medium-high heat, melt 2 tablespoons of the butter. Add the garlic and shallots and sauté until fragrant and tender, about 1 minute. Add the wine and cook for about 1 minute more. Add the clams and cook over direct medium-high heat, with the lid closed, until the clams open wide, 5 to 10 minutes, stirring every few minutes. Add the remaining 2 tablespoons butter, the parsley, and season with pepper. Toast the bread over direct heat, about 1 minute, turning once.

Remove the wok from the grill, discard any unopened clams, and serve right away in bowls with the bread and pan juices.