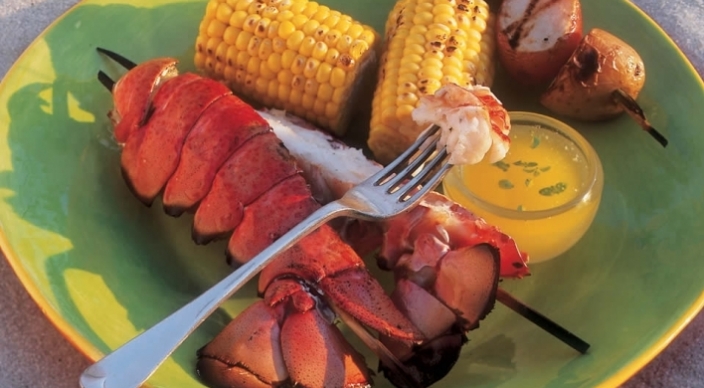 Serves: 4 // Prep time: 15 minutes | Grilling time: 32 to 41 minutes | Special equipment: metal or bamboo skewers
Ingredients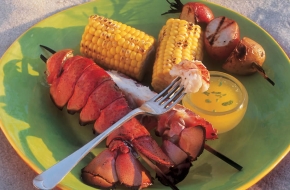 1 cup (2 sticks) unsalted butter
4 ears fresh corn, in their husks, silk trimmed
4 lobster tails, each 6 to 8 ounces
Kosher salt
Freshly ground black pepper
Instructions
If using bamboo skewers, soak in water for at least 30 minutes.

In a small saucepan over very low heat, melt the butter until foam rises to the top and the milk solids settle at the bottom. Remove from the heat. Using a spoon, carefully skim off the foam. Pour about ½ cup of the clarified (drawn) butter into a small cup; reserve the rest for a dipping sauce.

Prepare the grill for direct cooking over medium heat (350° to 450°F). 

Brush the cooking grates clean. Grill the corn over direct medium heat, with the lid closed as much as possible, until the kernels are tender, 25 to 30 minutes, turning three or four times. Use gloves to remove husks and silk.

Place each lobster tail, shell side down, on a cutting board. Using a sharp knife or kitchen shears, cut lengthwise through the center of the tough underside of the tail, but do not cut into the flesh. Thread two skewers lengthwise through the flesh of each tail. Lightly brush the flesh with the butter in the cup. Season with salt and pepper.

Grill the lobster tails, shell side down, over direct medium heat, with the lid closed, just until the flesh turns opaque and the shell is bright red, 7 to 11 minutes.

Using a large knife, split each lobster tail lengthwise through the shell to better expose the flesh. Serve warm with the corn and the reserved drawn butter.