Serves: 4 // Prep time: 5 minutes | Grilling time: 8 to 12 minutes
Ingredients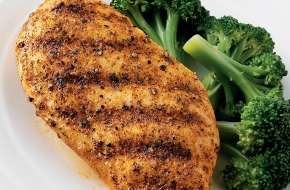 Rub
1 teaspoon granulated onion
1 teaspoon granulated garlic
¾ teaspoon kosher salt
½ teaspoon prepared chili powder
½ teaspoon freshly ground black pepper
---
4 boneless, skinless chicken breast halves, each about 8 ounces
Extra-virgin olive oil
Instructions
Prepare the grill for direct cooking over medium heat (350° to 450°F).

In a small bowl mix the rub ingredients. Lightly brush the chicken on both sides with oil and season evenly with the rub, pressing the spices into the meat.

Brush the cooking grates clean. Grill the chicken breasts over direct medium heat, with the lid closed as much as possible, until the meat is firm to the touch and no longer pink in the center, 8 to 12 minutes, turning once or twice. Remove from the grill and let rest for 3 to 5 minutes. Serve warm.